Wendy Huynh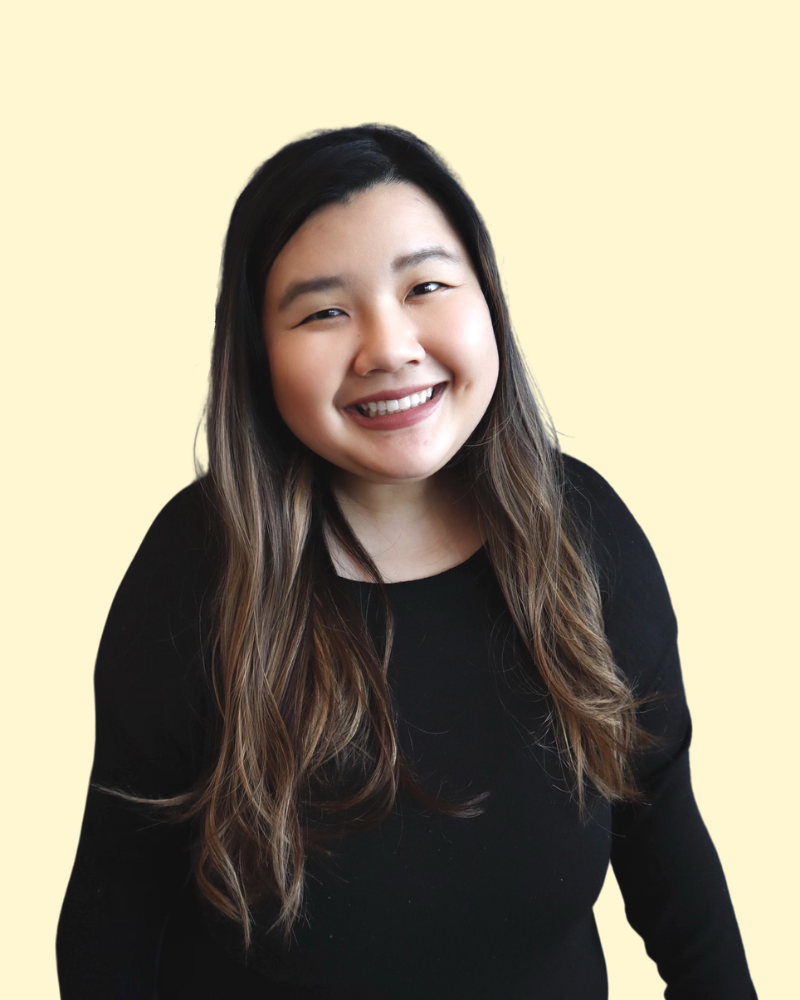 Wendy Huynh
Stegoly
Employee solutions mobile application
WHAT IS STEGOLY?
Stegoly is an employee solutions mobile application aimed at improving the employee experience with three main features:
Seamless onboarding process

Unlimited access to employment-related information and HR processes, such as benefits, pay history, reimbursements, and feedback

Timely company updates
Here at Stegoly, we believe in utilizing technology to make finding employment information more efficient.
BACKGROUND
Previous to becoming a UX Designer, I was a HR Professional. I worked with HR Systems daily—tracking changes to employee information, configuring performance reviews, integrating file feeds from the HR system to payroll and benefits systems.
While all of these processes involved employee information, it felt as if employees' access to information related to them was an after thought—to make HR's work more organized was the top priority.
Parallel to my observations, there has been a recent shift where companies are focused on prioritizing the employee experience, rather than compensation only. This encompasses doing rewarding work, on-demand employee service, and instant access to information.
MY ROLE
Stegoly was created for my solo Capstone Project for Springboard's UX/UI Intensive Program. I was responsible for the whole process of product design.
User Research

User Interviews

Sketching

Wireframing

User Flows

Visual Design

Prototyping

Usability Testing

Final Design
SECONDARY RESEARCH
With my background and an interest in improving the employee experience, there were two questions that came to mind to further narrow down what I should focus on: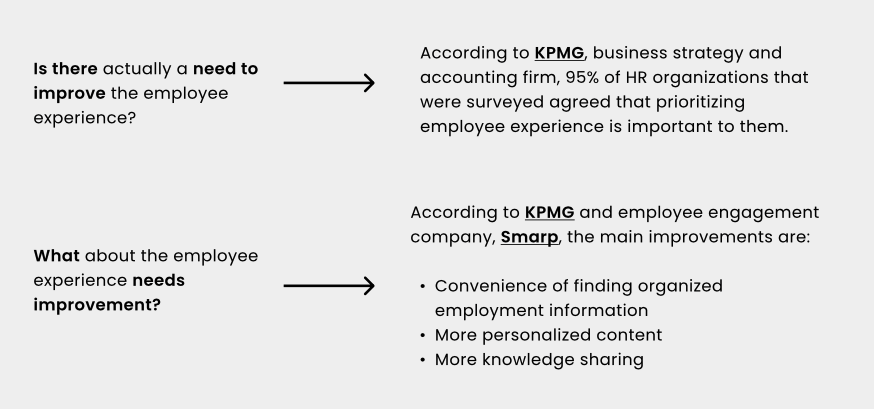 PRIMARY RESEARCH
To gain insights from potential end users about their opinions of current resources available to them and what improvements they think are needed, I conducted user interviews.
Screener Survey
The main criterion to take the survey was the participants must be/have been an employee. The survey consisted of 8 questions - short enough to have a high completion and response rate, but also sufficient enough to allow for selecting appropriate interview participants.

Response Collection
Survey responses were collected via Google Forms. I recruited participants from my LinkedIn and Instagram networks. After one week, there were 22 responses.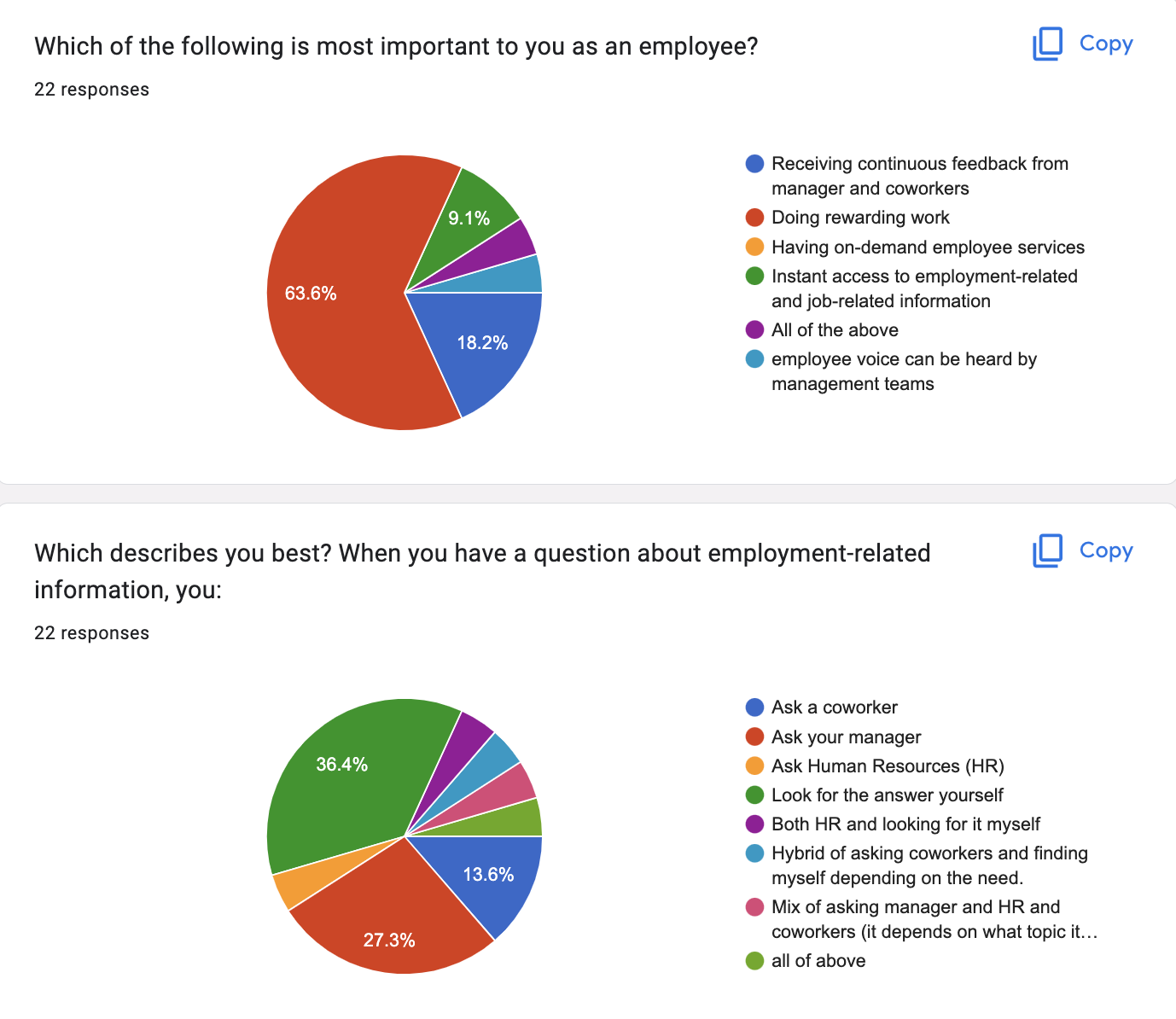 Selecting Interview Participants
Out of the 22 responses, 5 participants were selected to be interviewed.
Only people who consented to being contacted were contacted

4 participants who responded "dissatisfied" or "very dissatisfied" with their current employee experience

1 participant who was "satisfied" but provided improvements in the open text question
About the User Interviews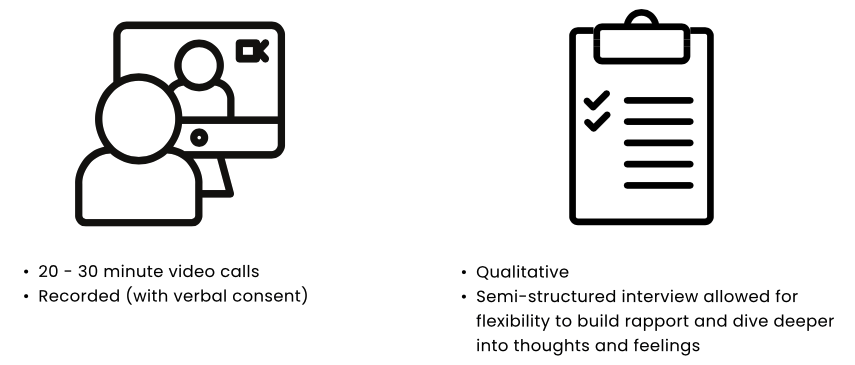 Quotes from User Interviews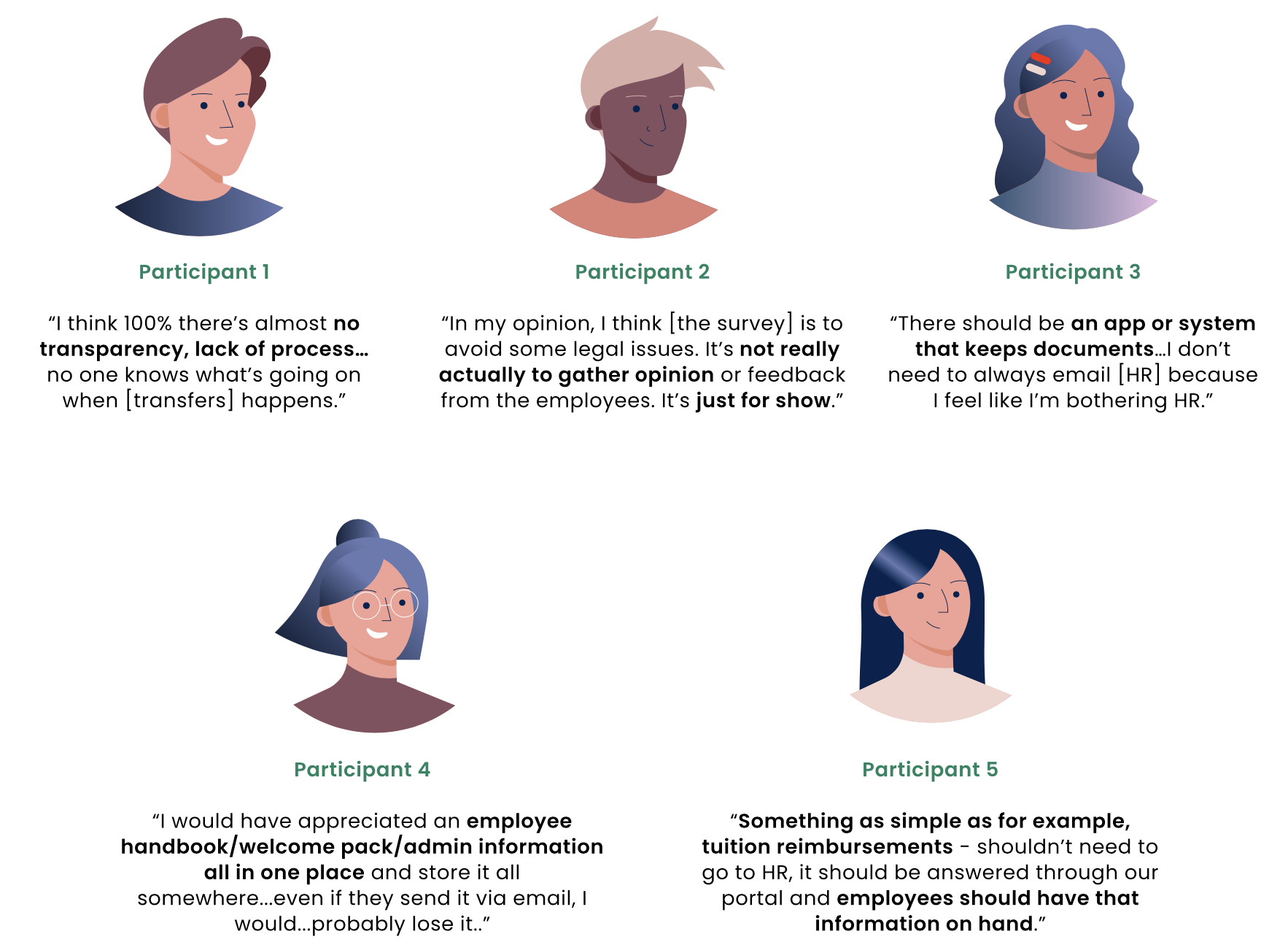 AFFINITY MAPPING
I gathered key findings from the user interviews and grouped them into similar topics to see bigger trends. The blue and pink sticky notes are the main topics with supporting findings surrounding them. Improvements are needed from small companies to big companies.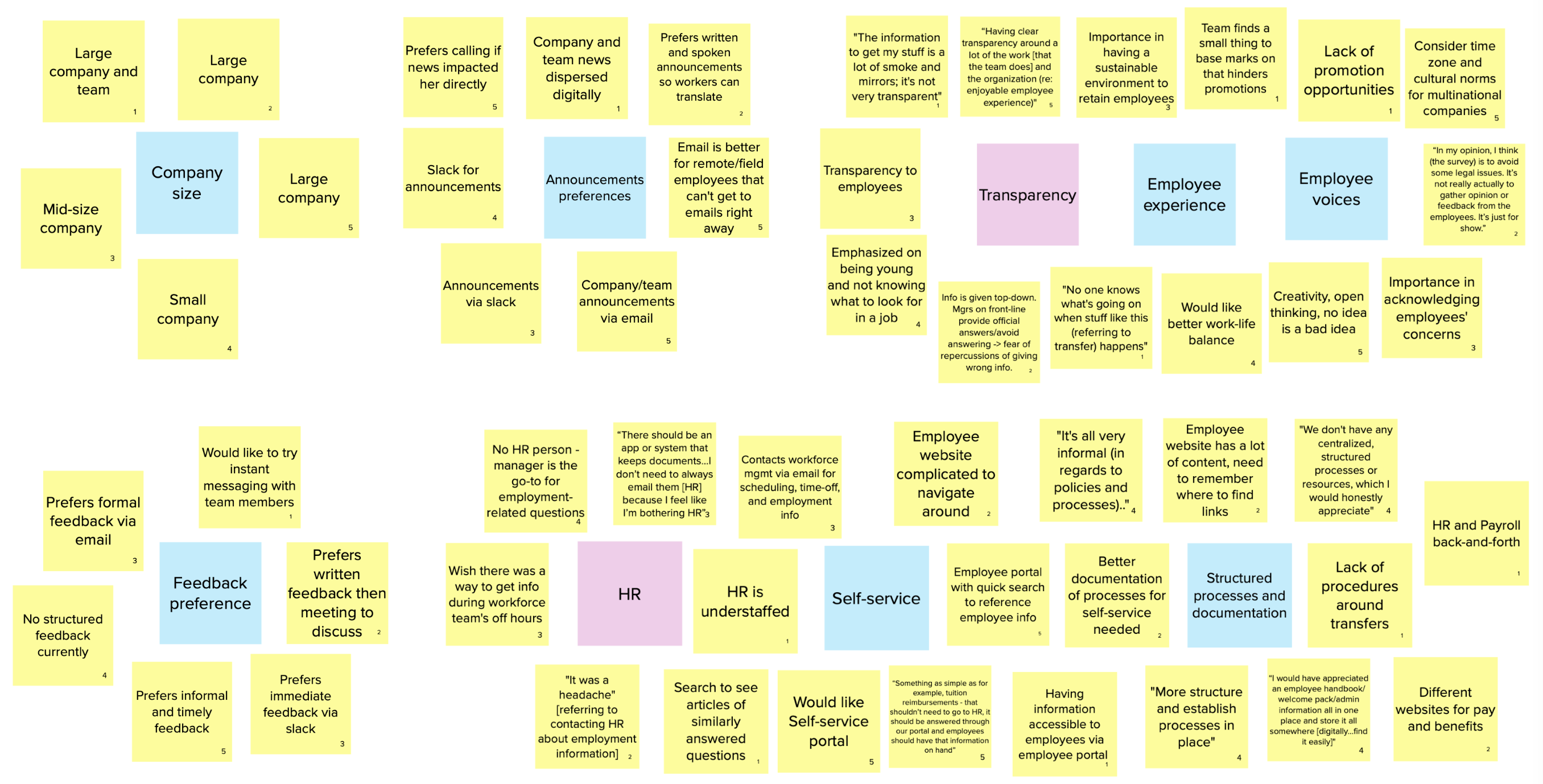 EMPATHY MAPPING
My goal of creating an empathy mapping is to put myself in the users, in this case, employees' shoes. This allowed me to better understand from an employee's point of view.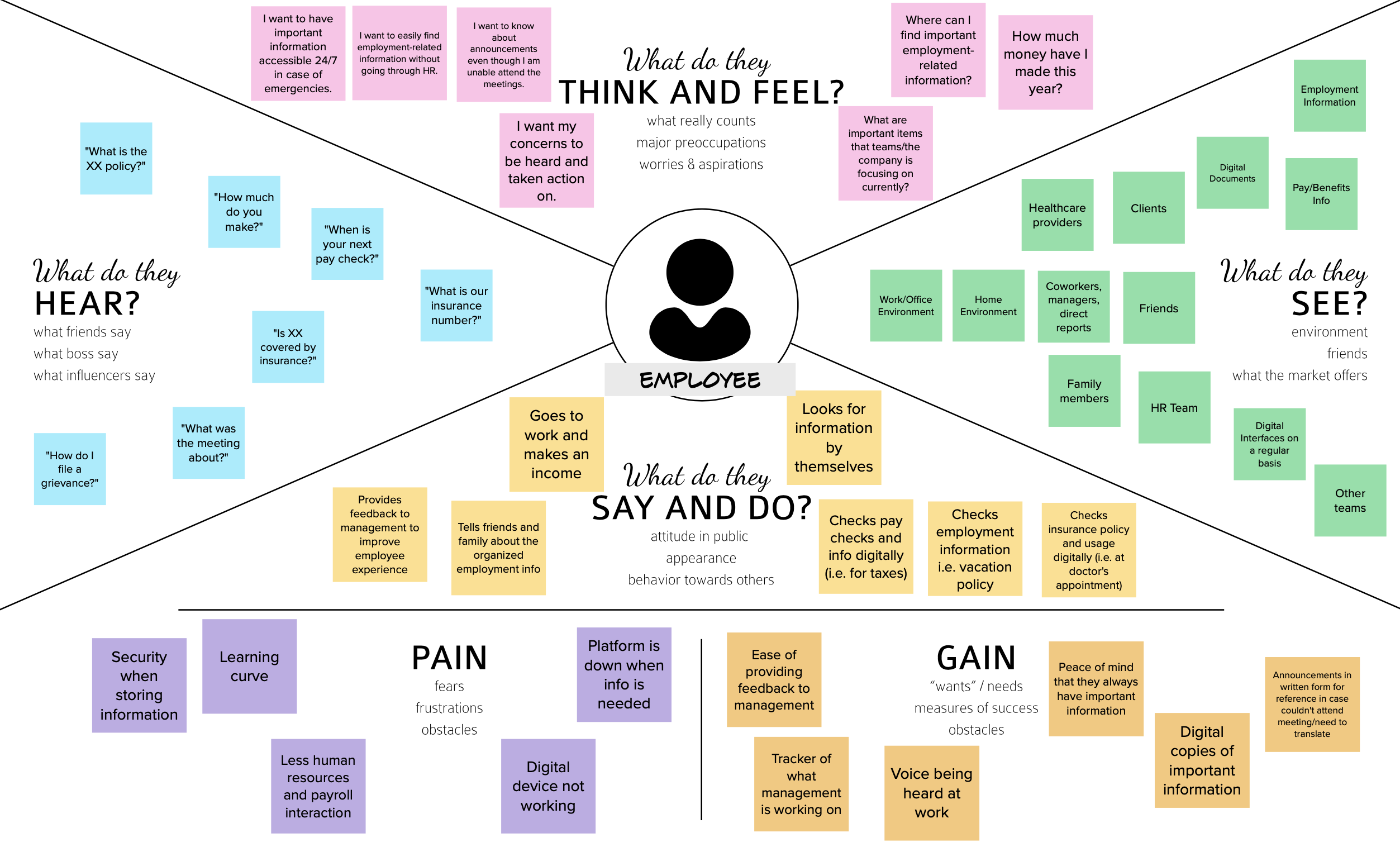 PERSONAS
I created 3 personas based off of my research to help me better understand how the product will be used and where the gaps are with current products.
These 3 personas represent different user types and help to keep every single design decision aligned with the user in mind.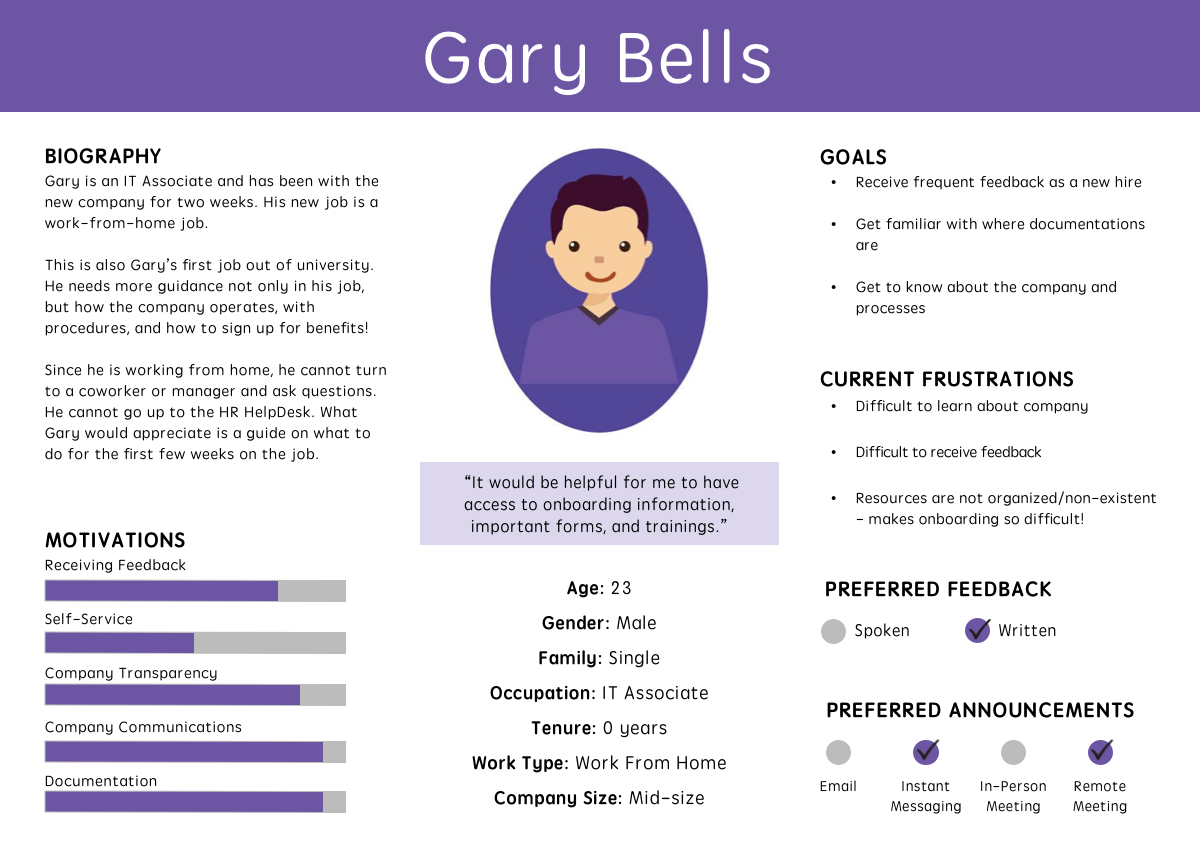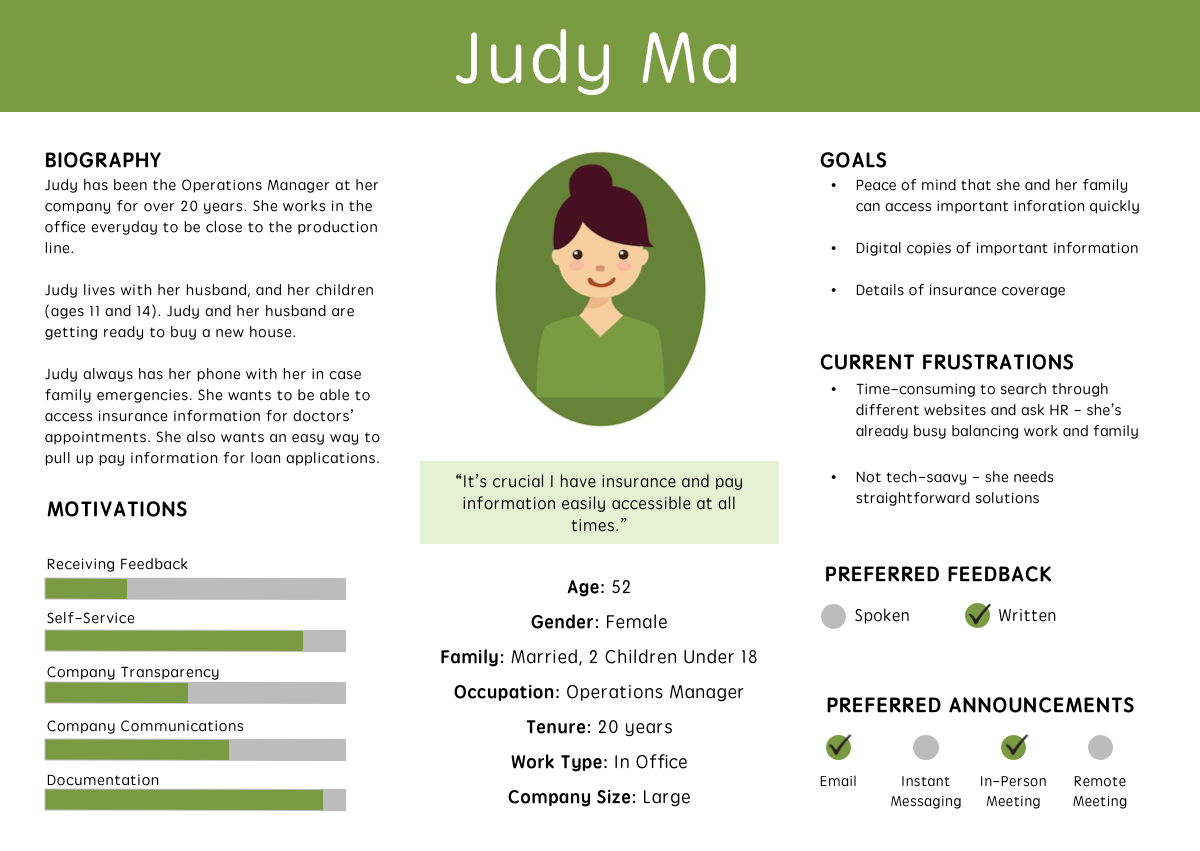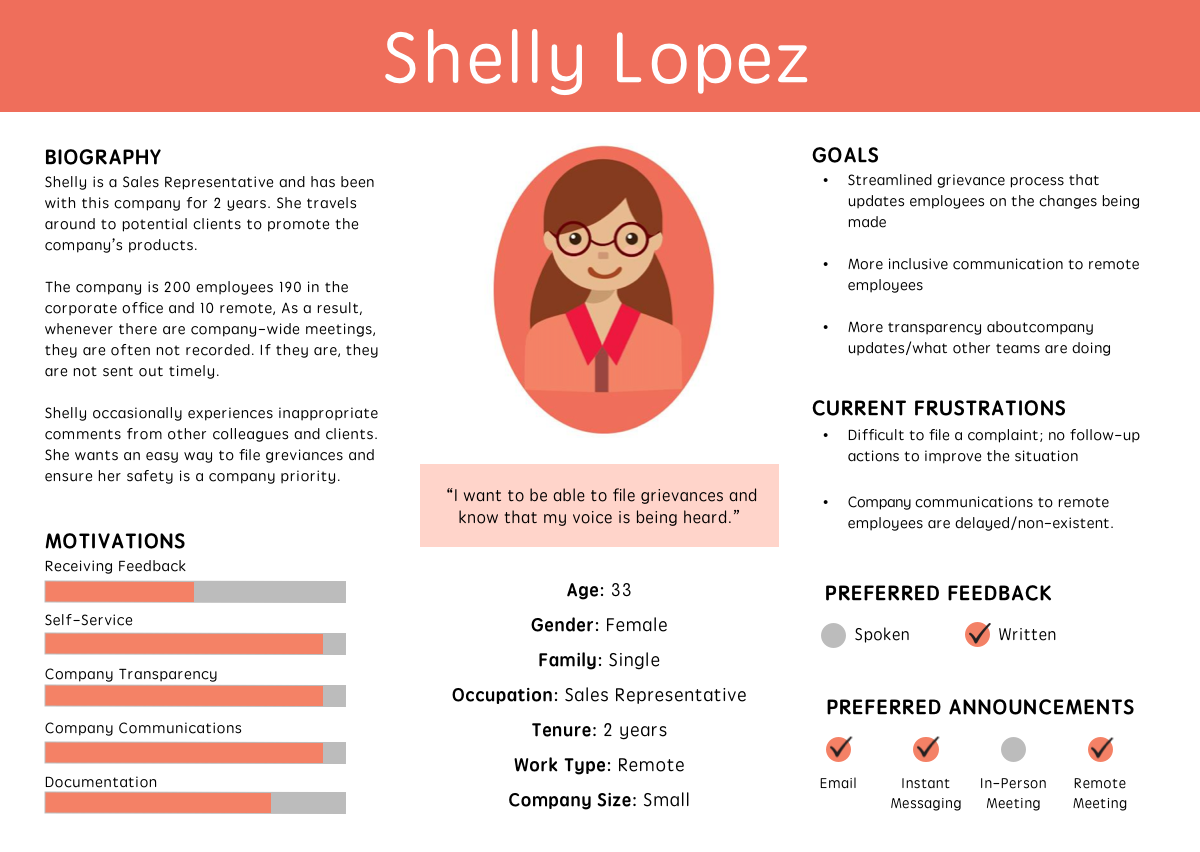 INSIGHTS FROM RESEARCH
After I analyzed the research and findings, a handful of insights came to mind: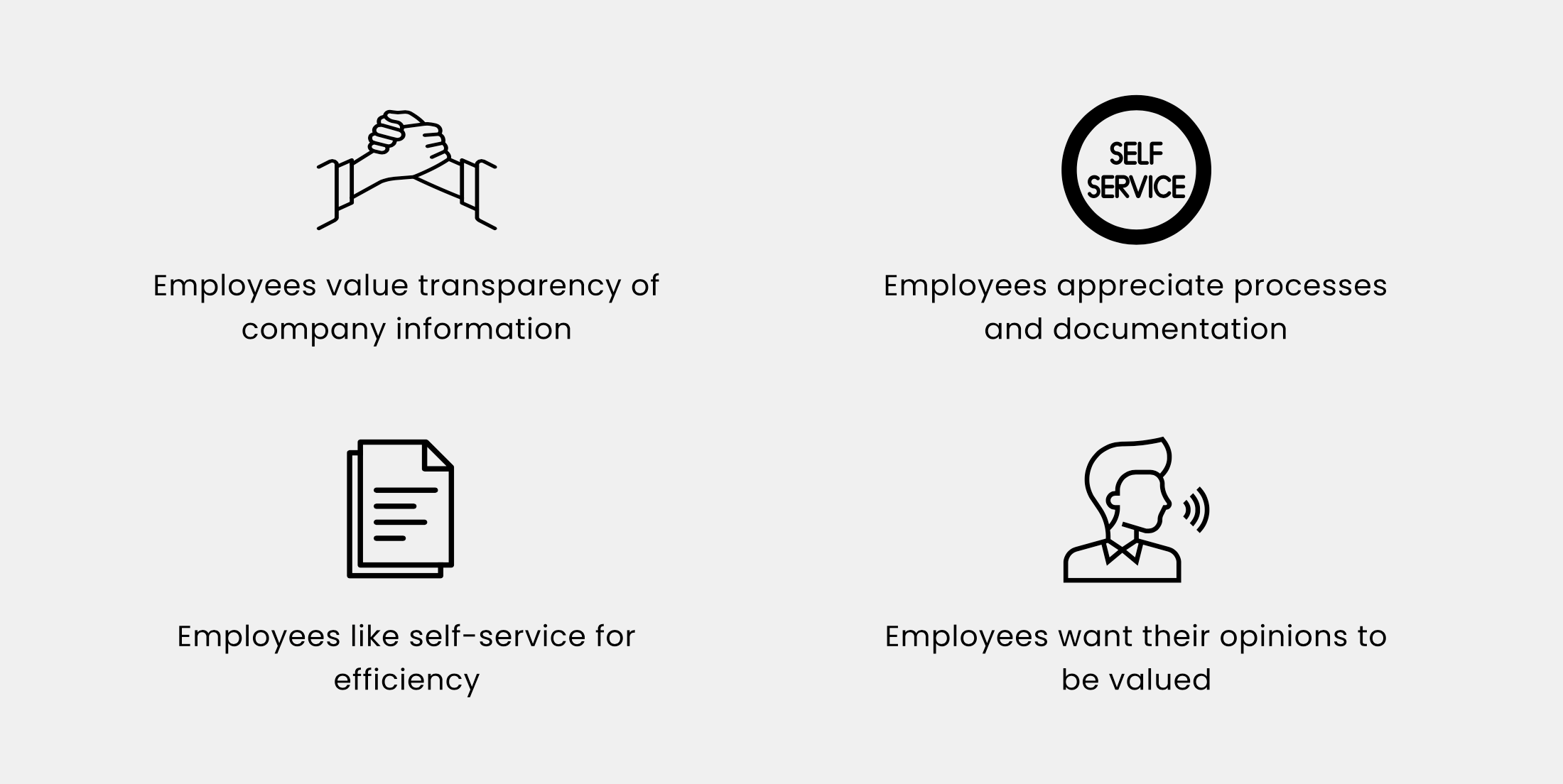 COMPETITOR ANALYSIS
I decided to do the competitor analysis after completing the research and synthesis because I would have a list of criteria (based off of what users need) in which to compare.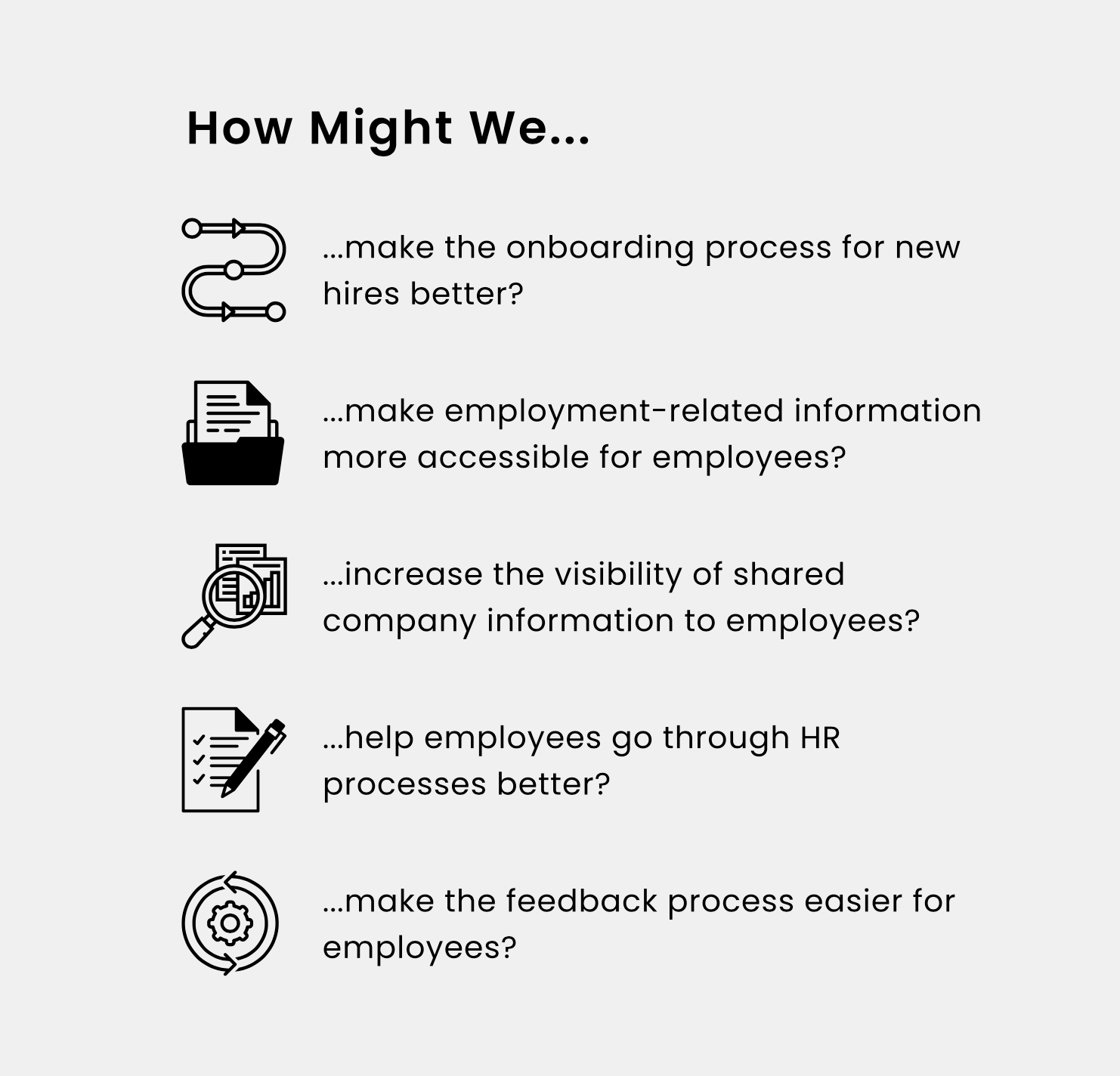 PROBLEM STATEMENTS
As a final step in synthesizing my research, I created How Might We Questions to help to formulate the opportunities and right problems to solve. These questions were also the goals for my design.
MAIN USER FLOWS
These user flows were determined from the needs of the personas.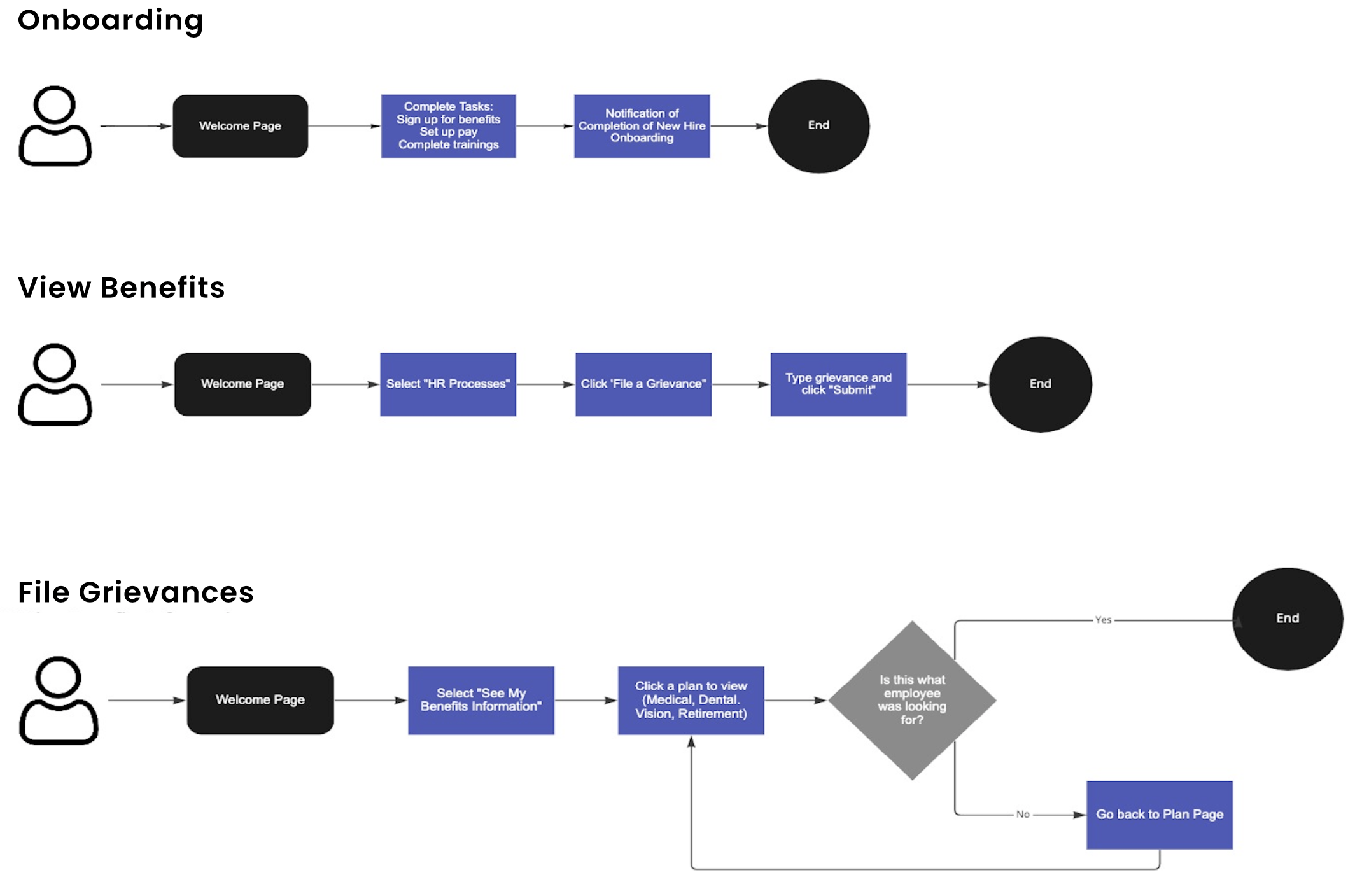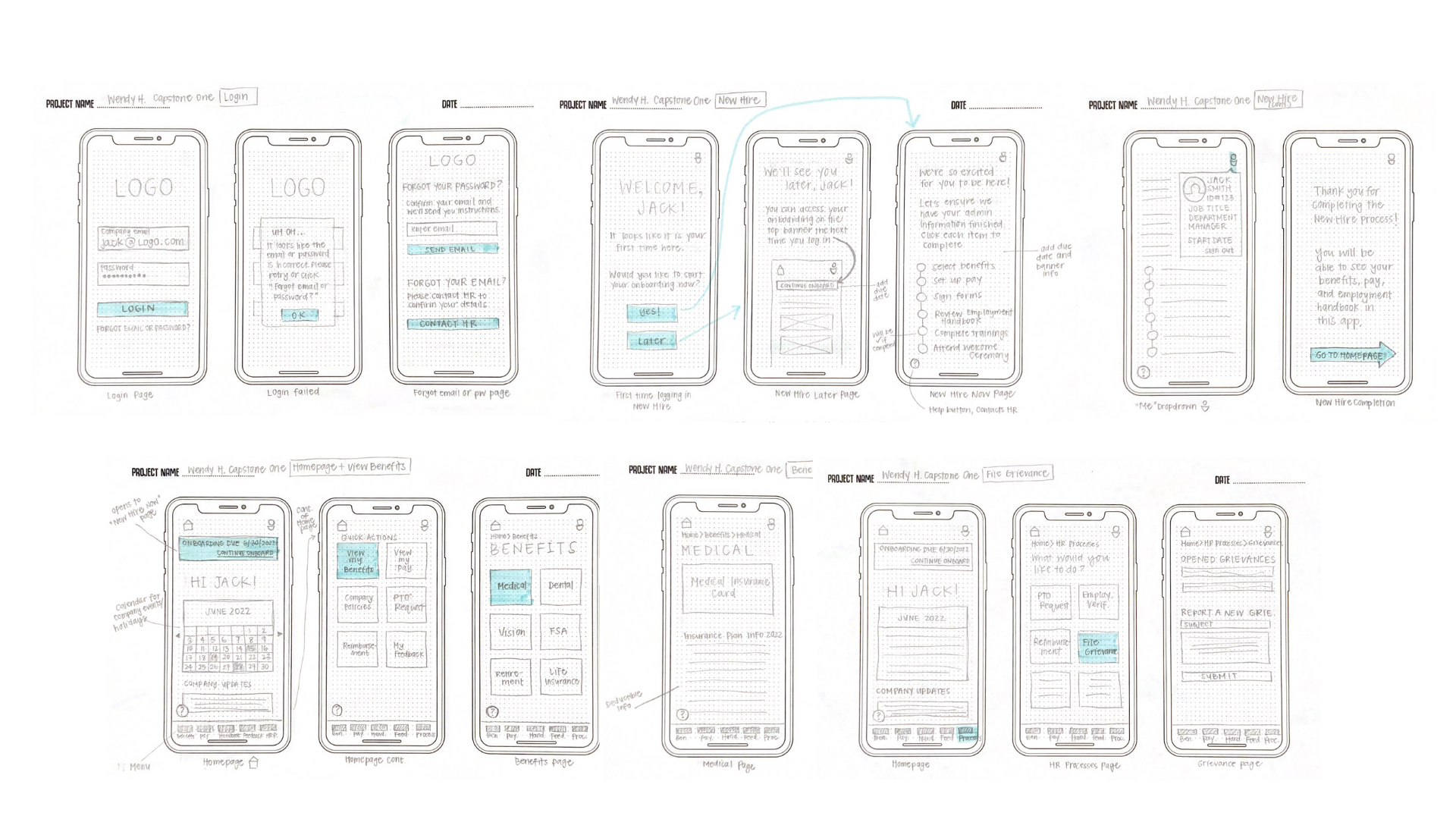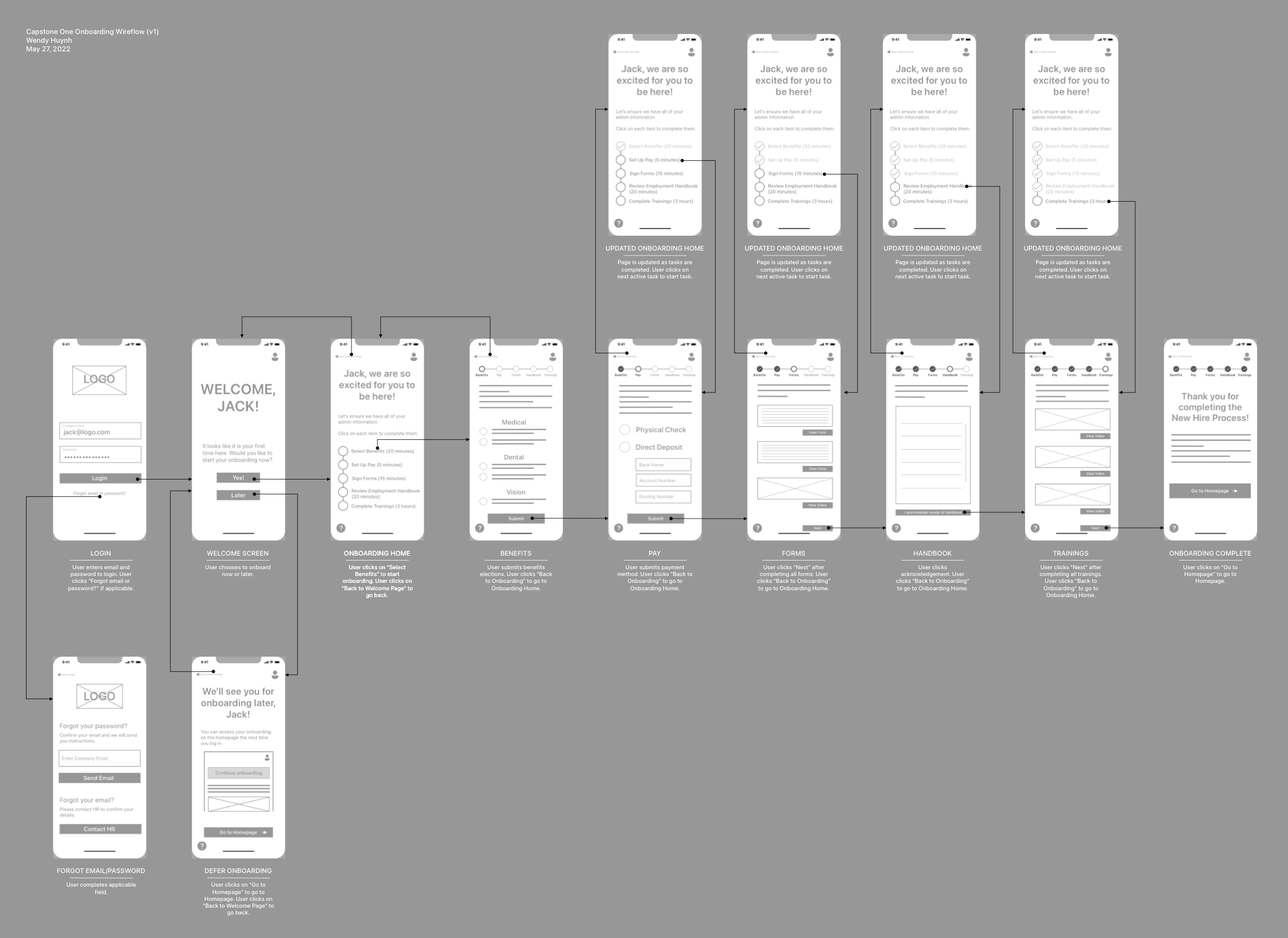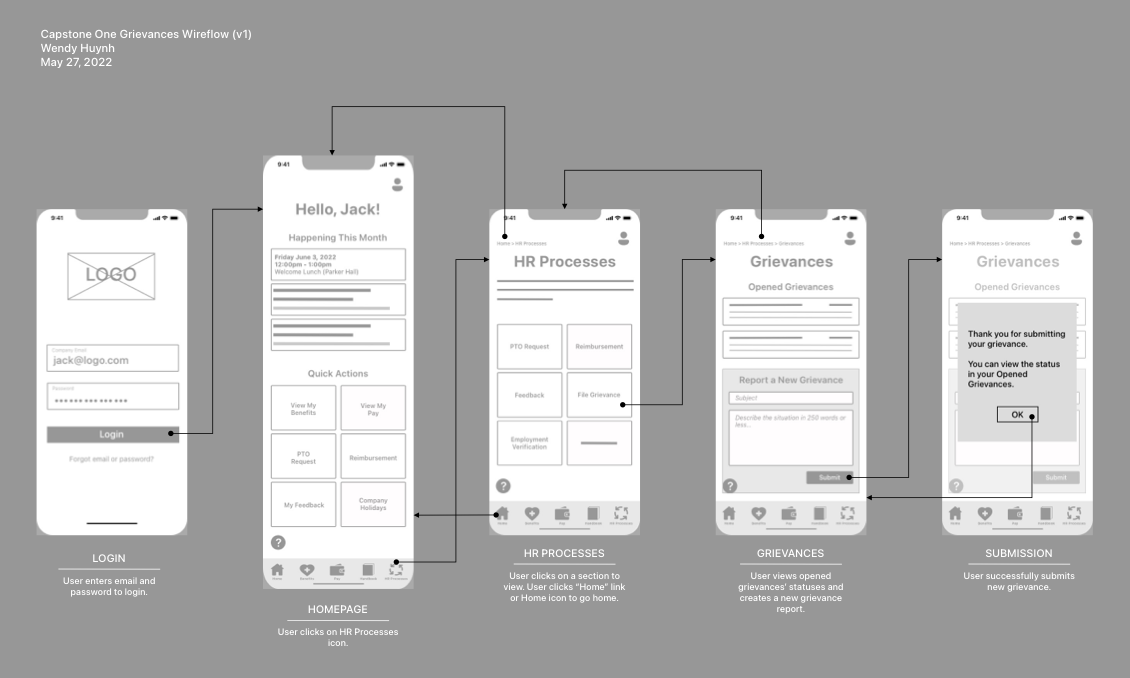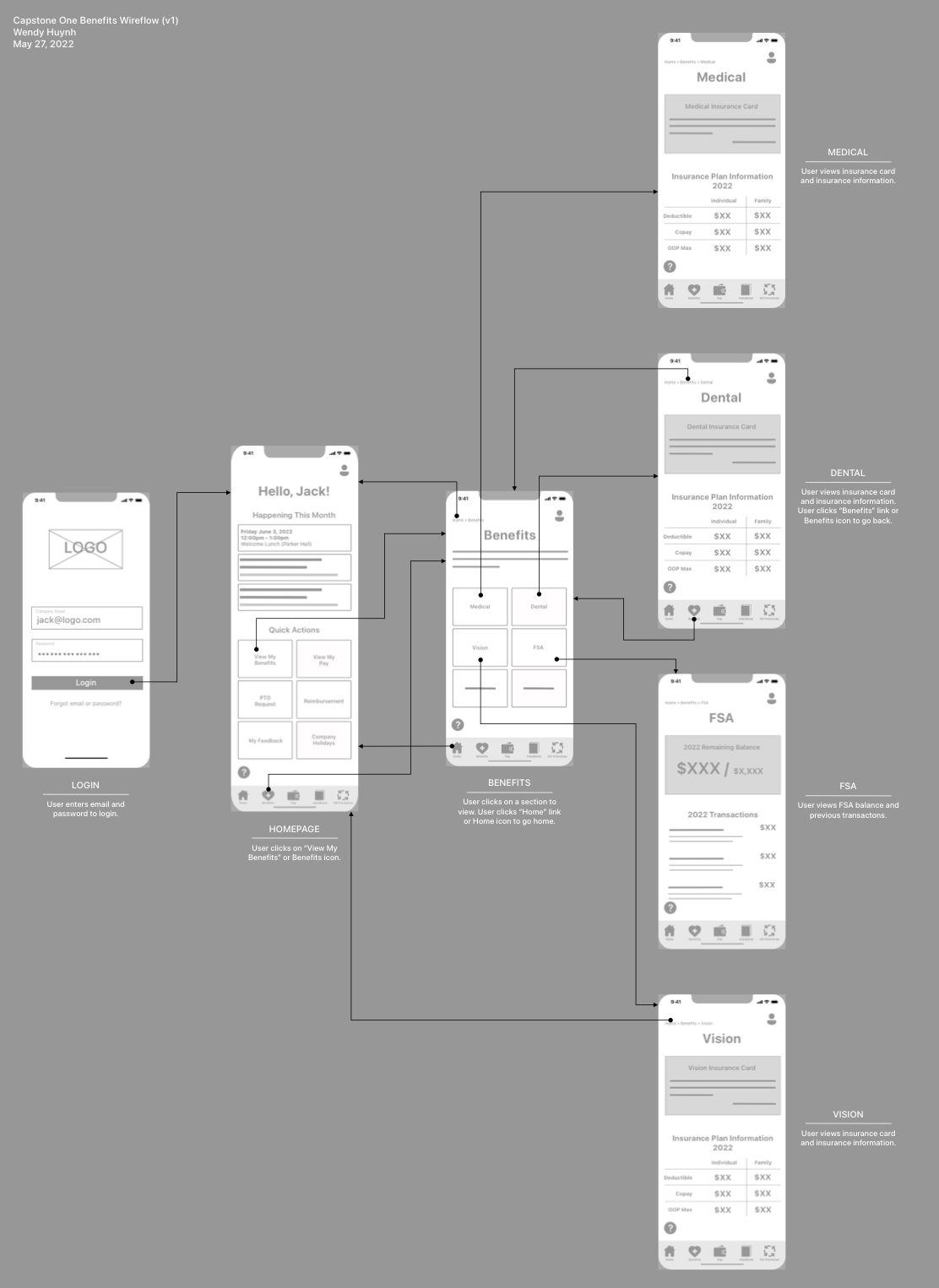 MOODBOARD
The concept of bold and vibrant colors stemmed from wanting to make a work-related application fun and inviting, rather than dull and stressful, as dealing with employment information can be at times. I also wanted to design a simple and clean UI for ease of navigation and credibility.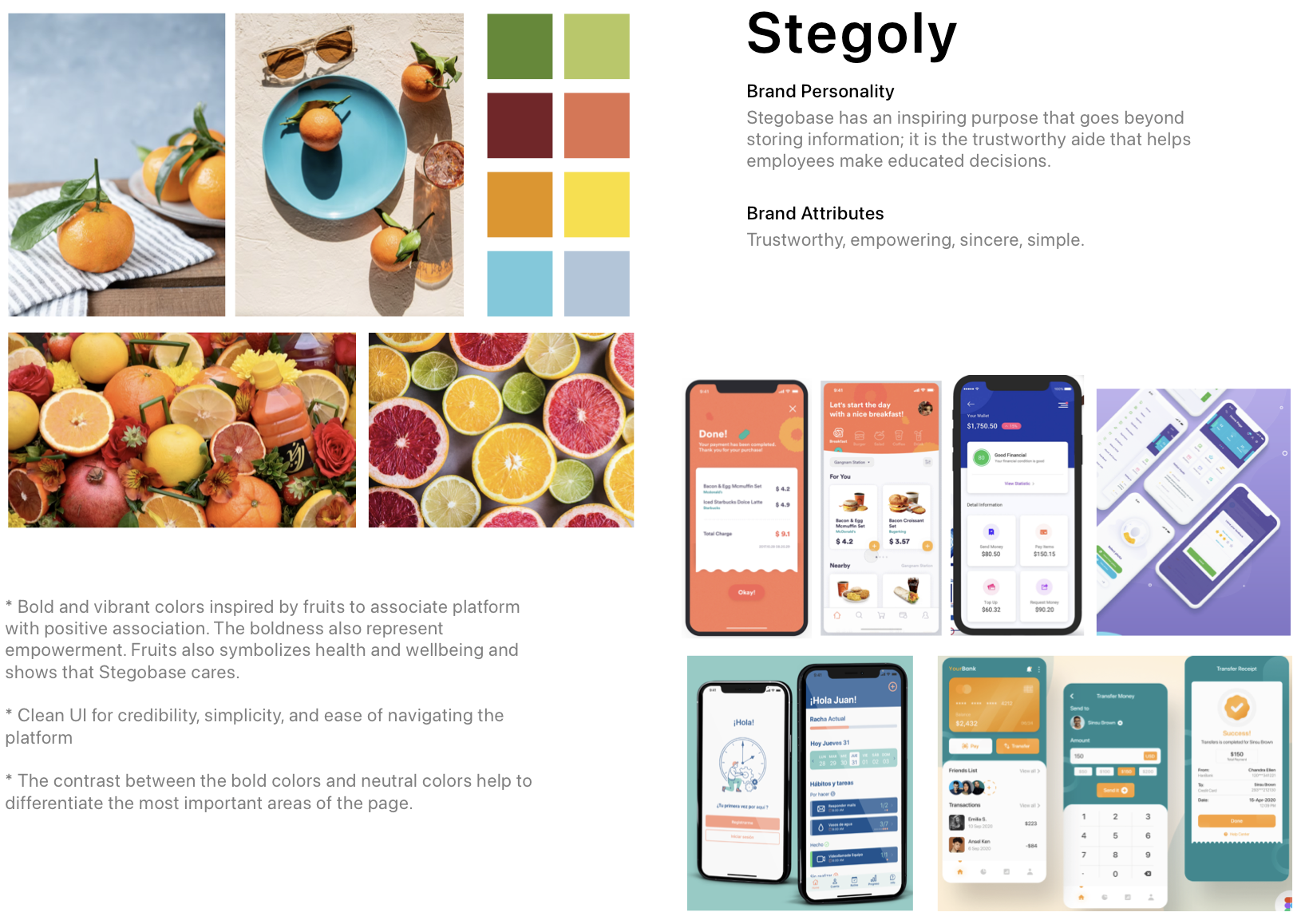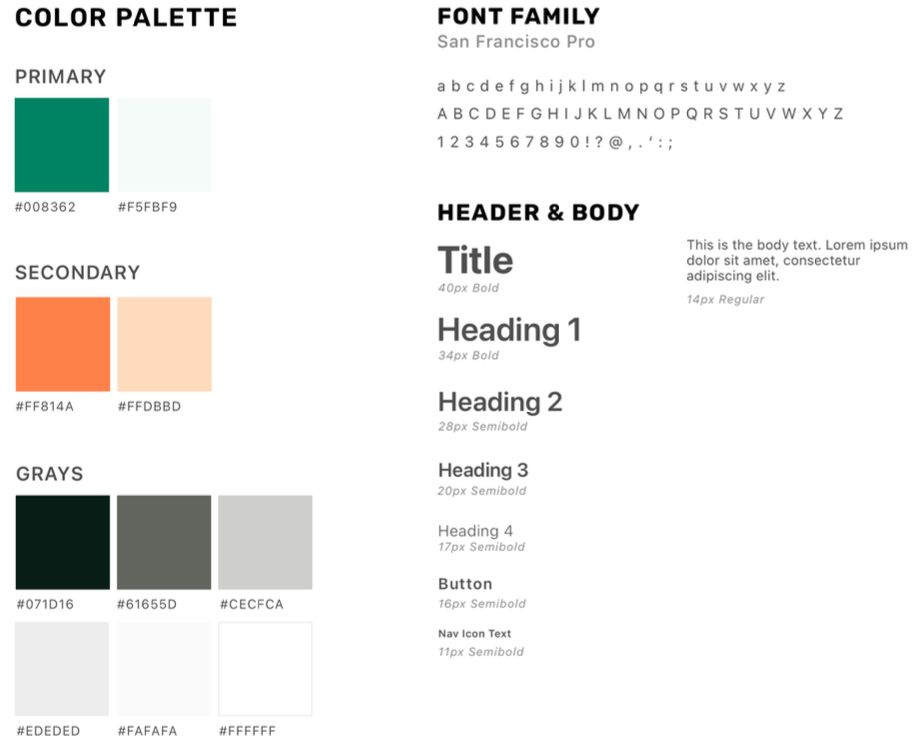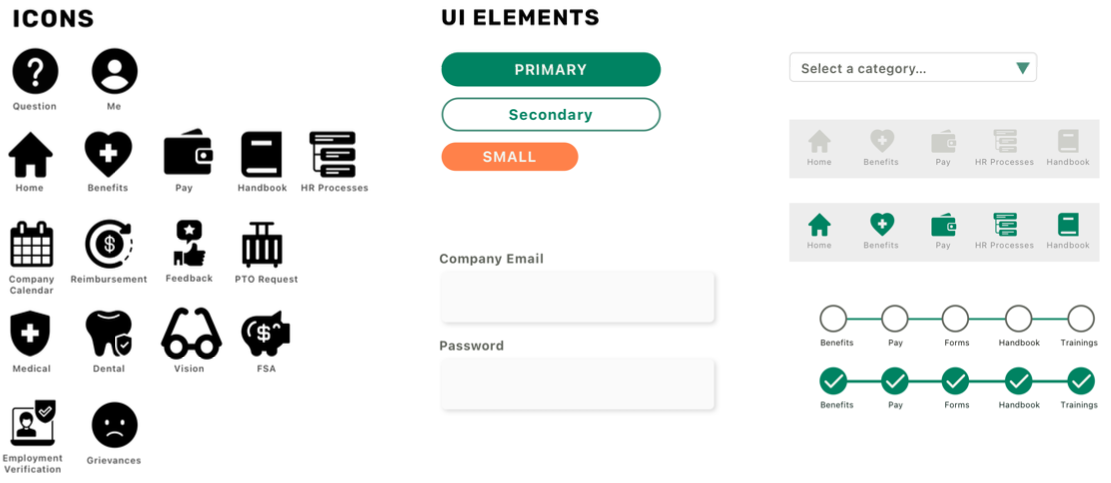 INTUITIVE ONBOARDING
My goal for the onboarding module was a simple and user-friendly design that allows employees to track their onboarding process and complete administrative tasks more quickly. There is also an option to defer onboarding for later; a reminder will show on the homepage if onboarding is not completed.
ACCESS TO BENEFITS, ANYTIME
Users are able to view all of their benefits information with a few clicks. The simple mobile navigation is especially helpful during urgent times.
BE HEARD WITH GRIEVANCES
Often times employees feel that they do not have a place to voice their opinions at work. Stegoly makes it easy to submit grievances and track updates.
USABILITY TESTING
Throughout the process of designing Stegoly, I learned that it is important to test my designs with the target user group (employees) to ensure that I am accounting for any gaps and edge cases that may arise.
Prior to the final design, there was one other iteration that was tested with 5 participants. Two changes were made to the design.
Help Button
When asked to locate the help button, 2 out of 5 participants stumbled on finding it. They suggested it was not noticeable and that it might be helpful in another place.
I decided that since the help function is not the main feature of any page, the button did not need to be on every screen. Instead, it was moved under the person icon. This new update was tested with 5 new participants and did not cause issues. Users who actively seek help will be able to locate it easily since the person icon is on every screen.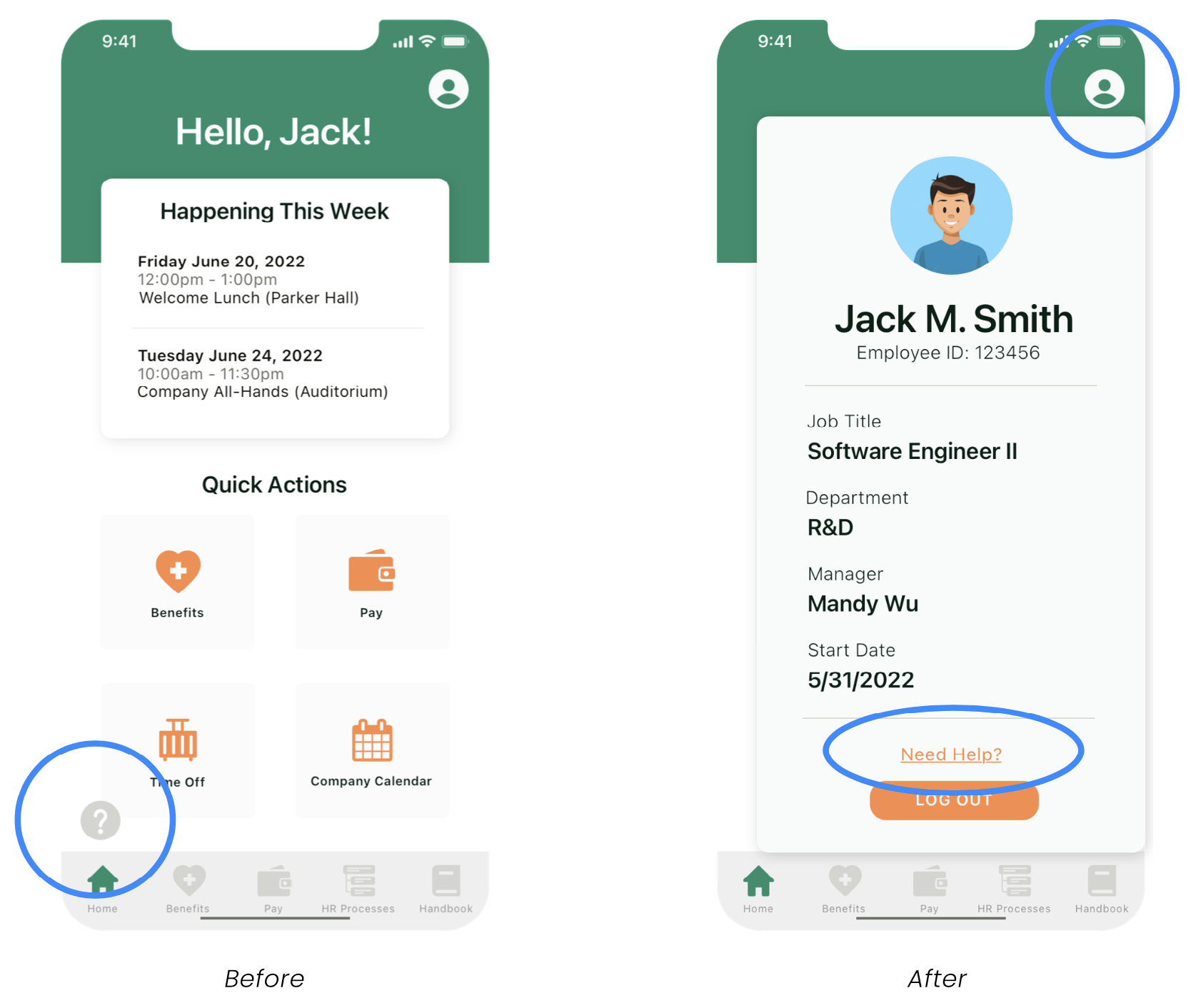 Add Single Sign-On (SSO)
A suggestion from 1 participant during the first usability test was to add single sign-on as an option on the login page. The reasoning was sometimes people forget their usernames and passwords, so SSO will eliminate the frustration and make logging in more efficient.