Wendy Huynh
Wendy Huynh
PostUp
Mobile application for public places to study or work remotely
WHAT IS POSTUP?
PostUp is a mobile application aimed at improving the way people look for public places to study or work remotely.
Whether users are looking for a place to do remote work for the entire day, to host a client meeting, or to answer emails in between appointments, PostUp recognizes the specific needs of each situation.
At PostUp, we believe that users should be able to select from a list of criteria and find a perfect place to be productive.
MY ROLE
PostUp was created for my modified Google Ventures design sprint for Springboard's UX/UI Intensive Program. I was responsible for the entire design sprint process, which was 5 days long.
Research Analysis

Sketching

Storyboarding

User Flows

Visual Design

Prototyping

Usability Testing

Final Design*
*I took a few extra days after the sprint to create a high fidelity mockup.
UNDERSTANDING THE PROBLEM
CURRENT SOLUTIONS AND THEIR SHORTCOMINGS
During the first day of the design sprint, I synthesized research that was provided. To summarize: the problems with current solutions are:
(1) They cater to finding a place to eat and drink, rather than a place to work.
(2) Trying to find a proper work space often involves sifting through reviews on several websites and applications to find out information about the specific criteria (i.e. are there restrooms or outlets).
(3) This is time-consuming and takes up valuable time that can be spent working.
(4) Photos of the places often do not show the layout or the number of tables.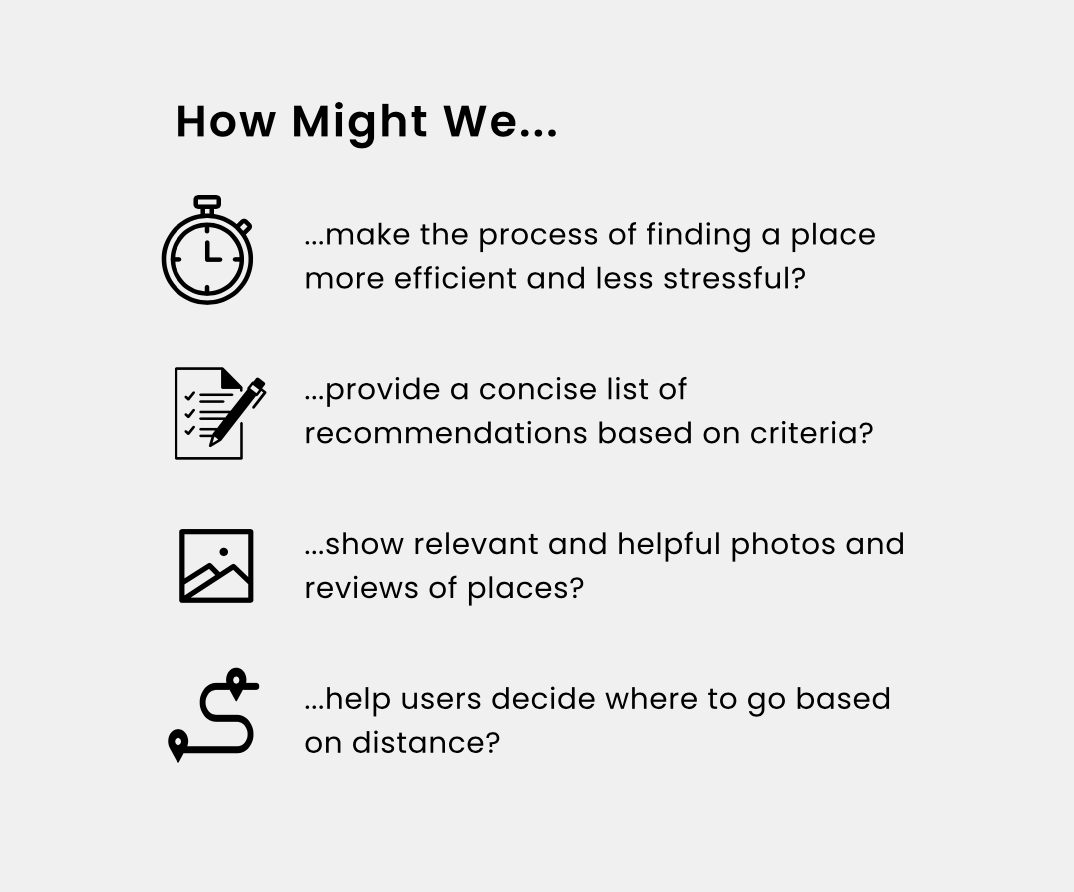 PROBLEM STATEMENTS
From the shortcomings of the current solutions, I brainstormed 4 How Might We Questions to show the opportunities and right problems to solve. These questions were also the goals for my design.
PRIMARY RESEARCH
To finish Day 1 of the design sprint, I created an ideal end-to-end user experience map based on the synthesis of the research provided.

SKETCHING POSSIBLE SOLUTIONS
MODIFIED LIGHTNING DEMOS
To begin Day 2 of the design sprint, I used 30 minutes to browse through some mobile applications and websites to inspire ideas on how I designed the PostUp mobile application.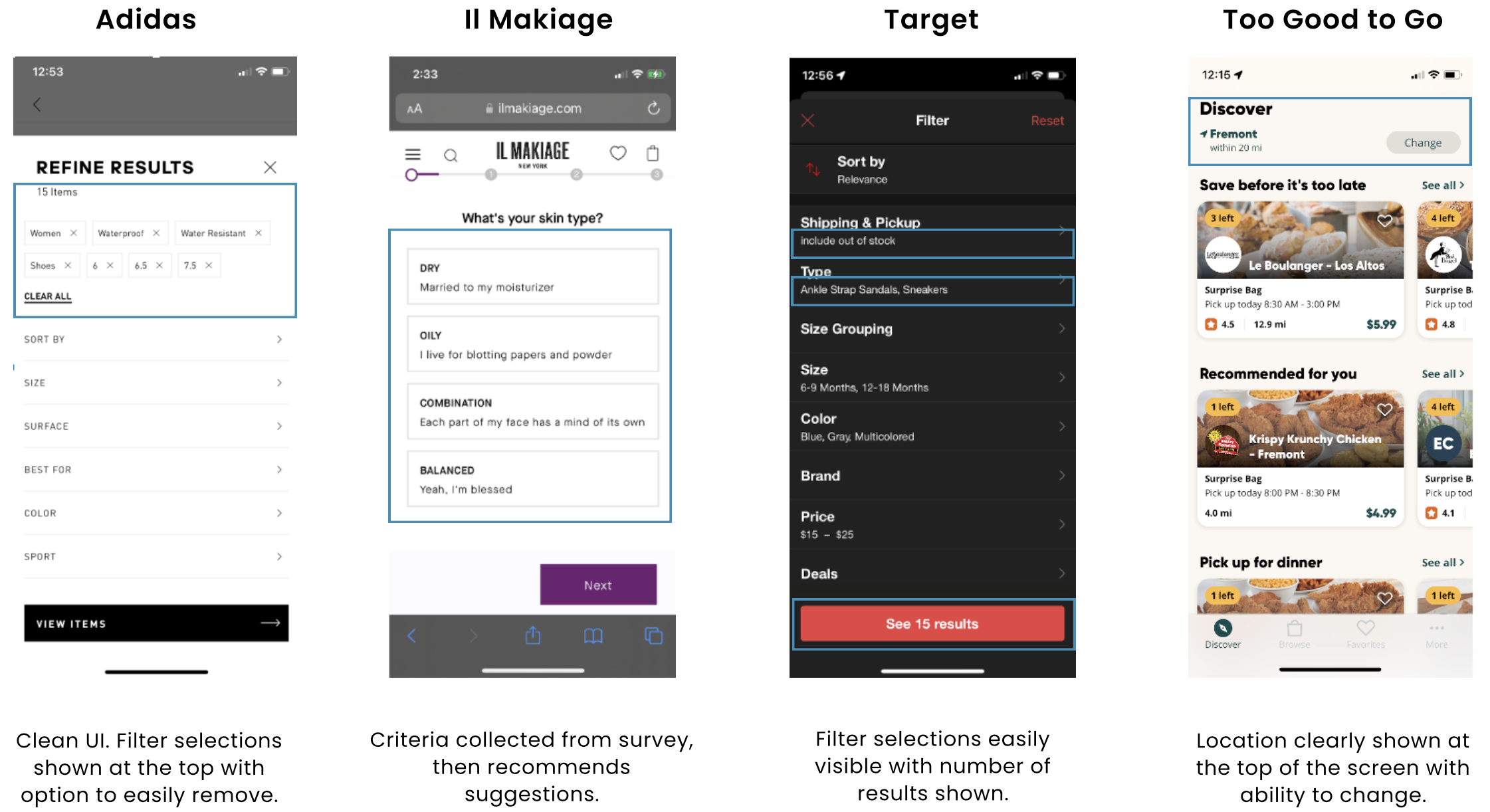 CRAZY 8s SKETCH
My goal with the Crazy 8s sketches was to sketch the most critical screen in the application 8 times, therefore 8 solutions. I decided that my most critical screen would be the home screen which users could select their criteria.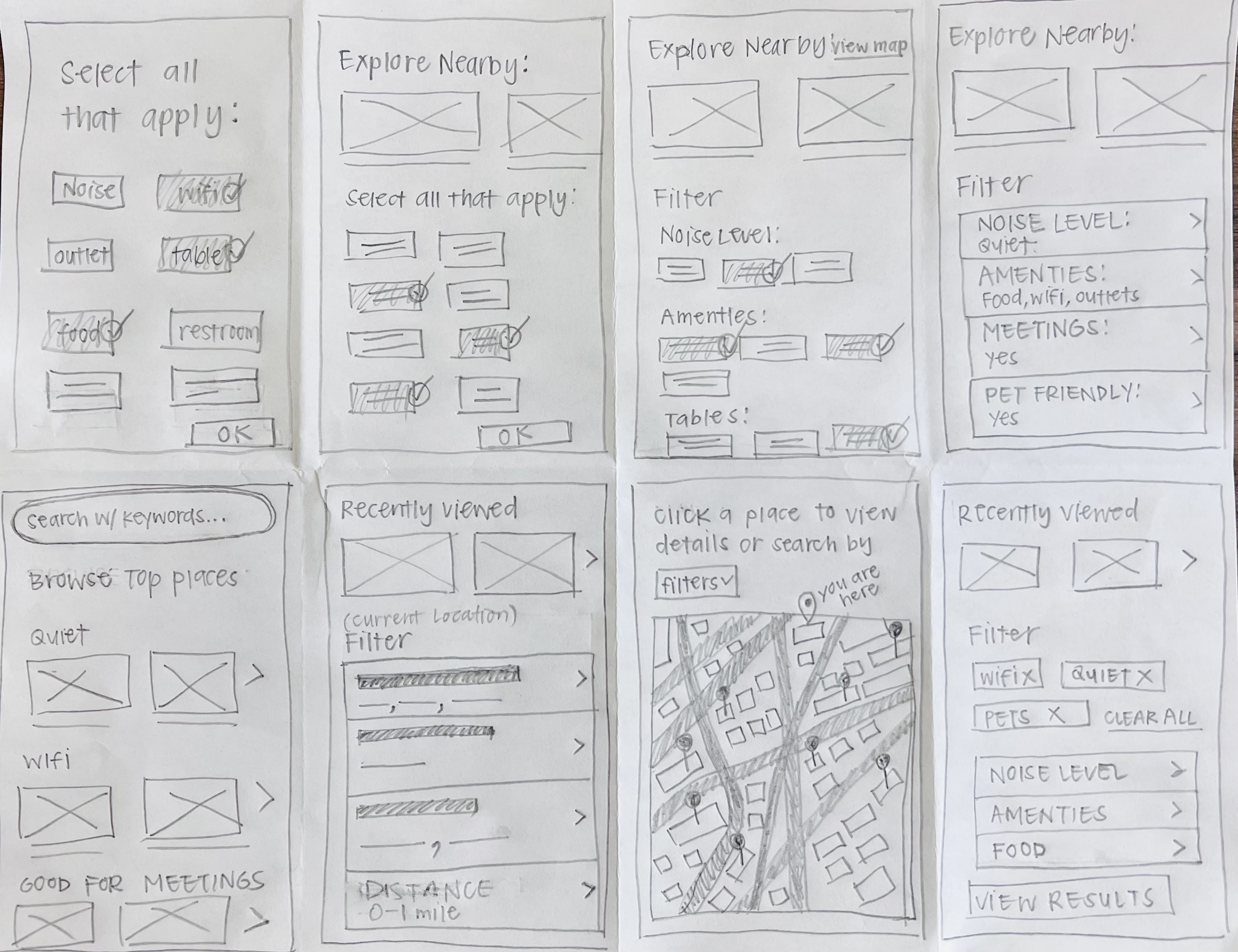 3-PANEL BOARD
To wrap-up Day 2, I chose the my favorite solution of the most critical screen and sketched two subsequent screens.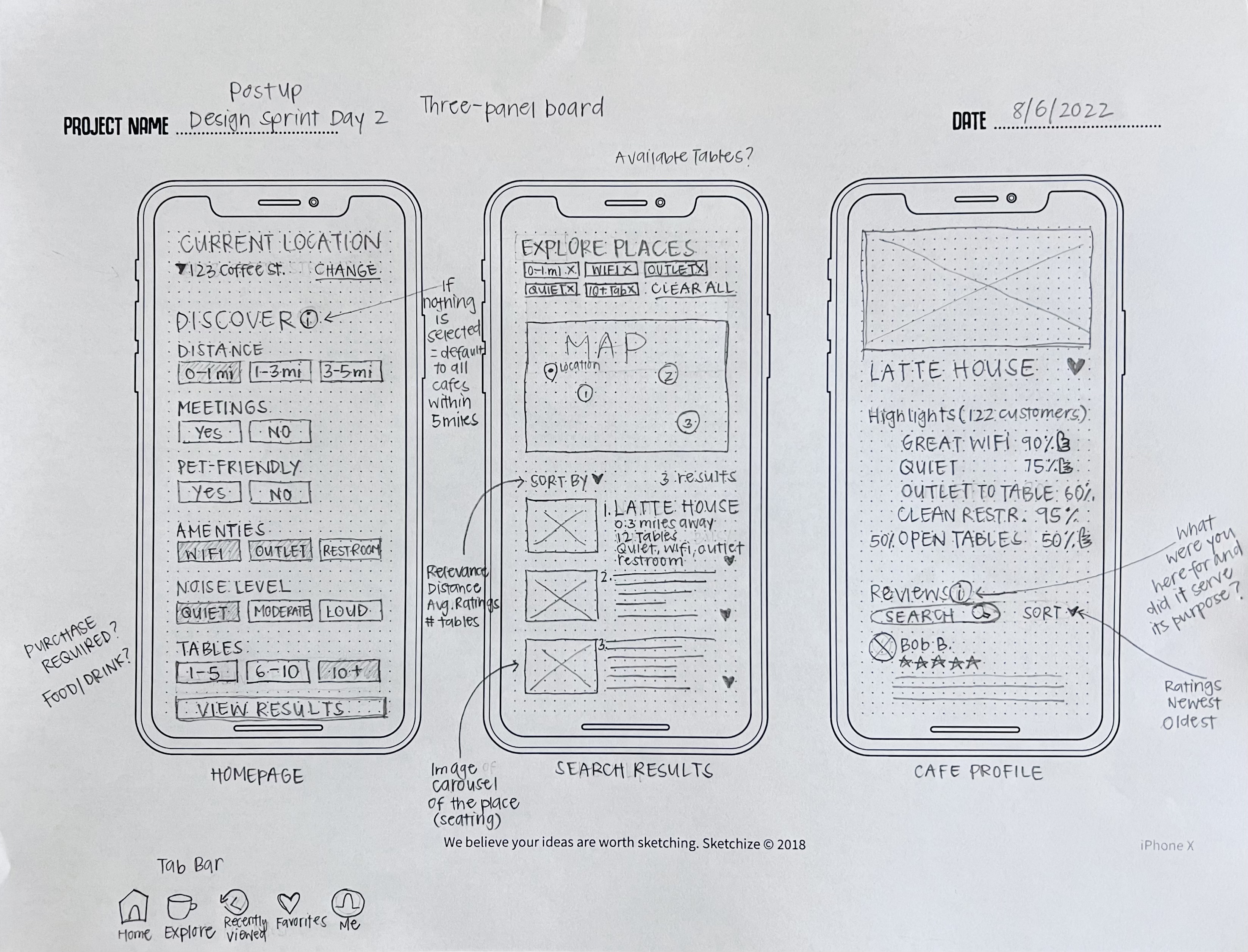 I decided on the following storyboard because it lets the users stay in control and drive the searches. Usually if the user is trying to look for a place to work, they already have criteria in mind based on why they want to go to the place. PostUp will provides options of places based on the selected criteria. Users can read reviews of why others were there to see if anyone else was there for the same reason. Users can also refer back to favorites and previously viewed.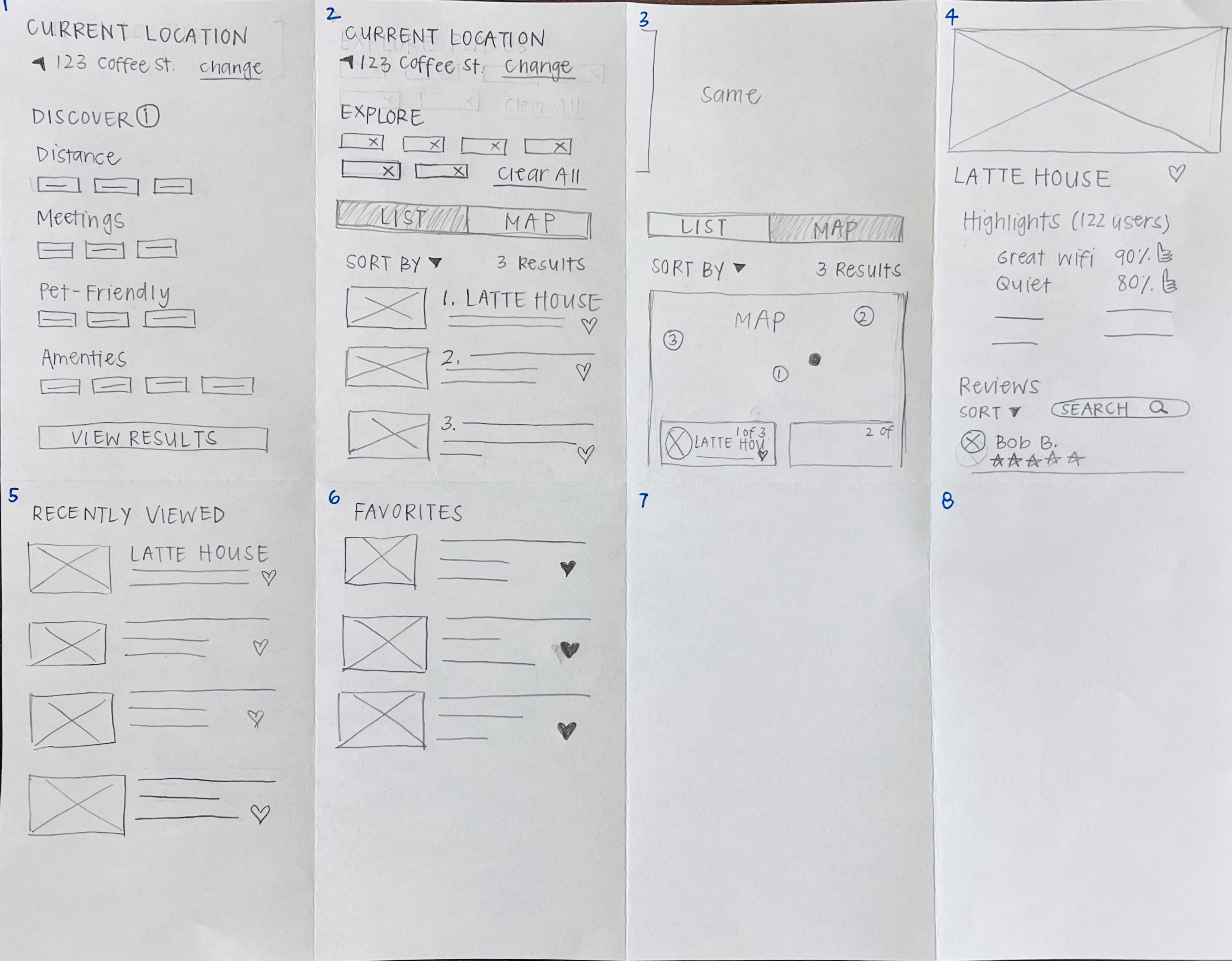 According to my synthesis on Day 1, the following red routes are the most important actions of PostUp.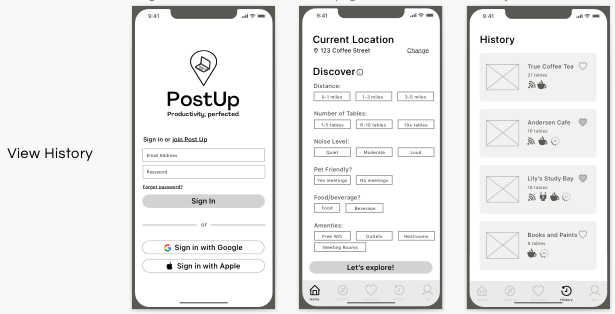 ABOUT THE USABILITY TESTING
After prototyping, I recruited 5 participants from my network on Instagram to hear their feedback. The participants work remotely or are studying. Their age range is from 20 to 35 years old.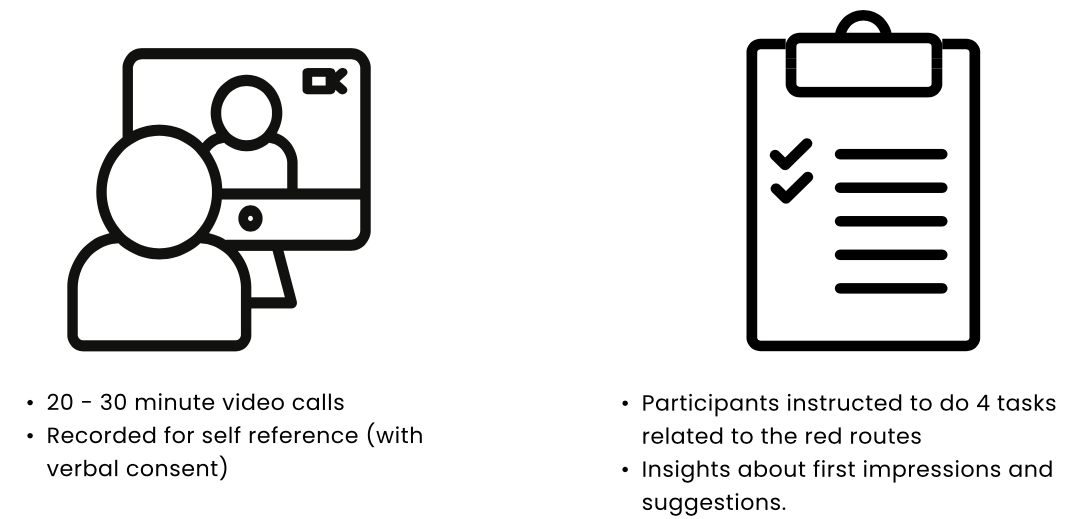 The participants were asked to complete the following tasks:
(1) Find a place to work or study with the following criteria.
(2) Locate a cafe on the map. How far away is it from your location?
(3) Like a cafe. Where would you go to reference it again?
(4) You want to revisit the profile of a cafe you looked at a few days ago. Show me where you would go to view the cafe again.
RESULTS OF TESTING
All 5 participants had no issues completing the tasks. The overall consensus was that the UI was clean, the application was easy to navigate, and it would be a helpful way to look for a place to work or study.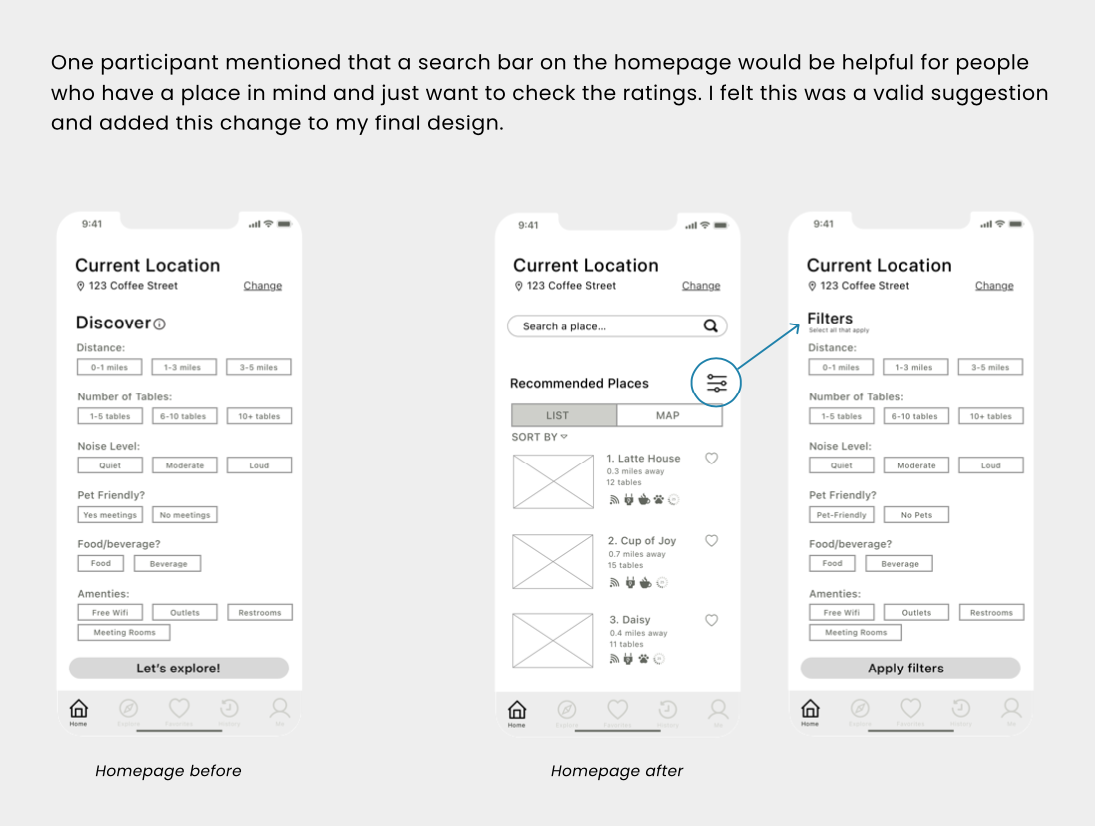 MOODBOARD
With the user experience prototyped and tested, it's time to add the visual design.
When I think of a place to be productive, I think of a cozy cafe with a calm ambiance. I tried to embody this feeling with blues and browns. In the end, I decided to go with only blues for my color palette as the pictures of the places to work and study will provide the browns (i.e. coffee and tea, tables and chairs). I wanted the UI to be clean, easily navigable, and modern.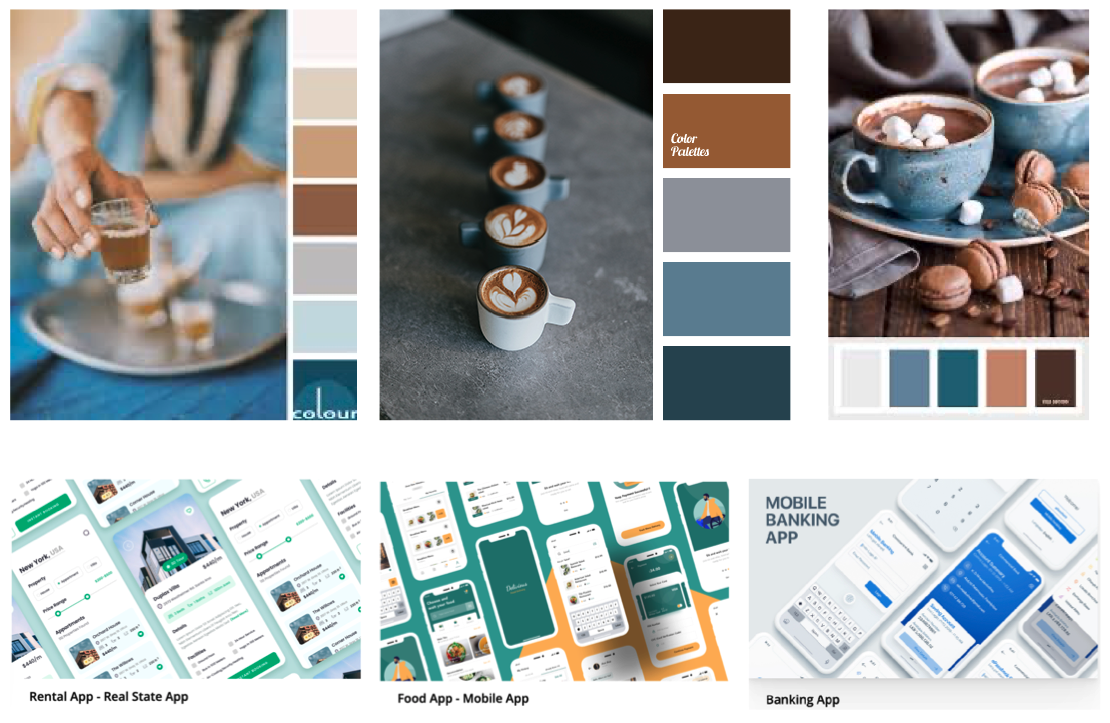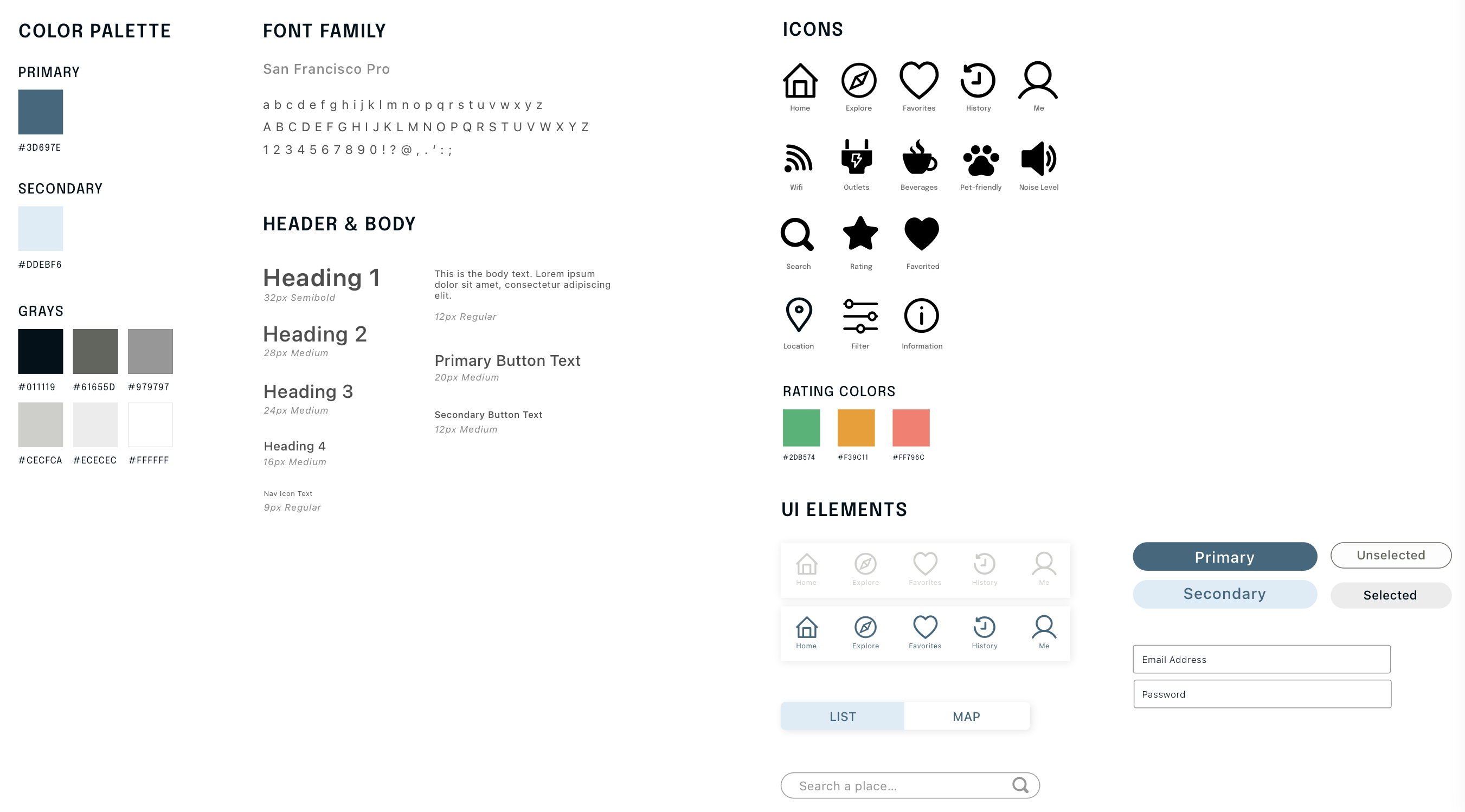 MULTIPLE WAYS TO FIND THE PERFECT PLACE
Users can explore recommended places, search, or filter based on their set of criteria. Users can also quickly see the amenities offered and the ratings from other users.
TOGGLE BETWEEN LIST AND MAP
Users can easily locate themselves relative to the places and view the distance.
EASY ACCESS TO FAVORITES AND HISTORY
Users are able to view their favorited places and refer back to places they have looked at previously.
ADDITIONAL TESTING AND ITERATION
Since the initial usability testing was completed during the design sprint and before the final design, it would be beneficial to conduct another round of usability testing to validate the changes that I made according to the initial feedback.
Along with any changes from the second round of usability testing, I would also like to make a few minor UI updates to my design.
CONCLUDING THOUGHTS
Going through the design sprint for PostUp showed the true value of testing and iterating early in the design process. Edge cases and important functionality are more likely to be accounted for at the beginning of the process. Involving the target users early also ensures (1) there is a need for the product and (2) any changes made will enhance the perceived value.
With my synthesis and testing, as well as many companies allowing employees to work remotely, there is a clear demand for PostUp, and I hope that one day PostUp can become a tangible application.