Wendy Huynh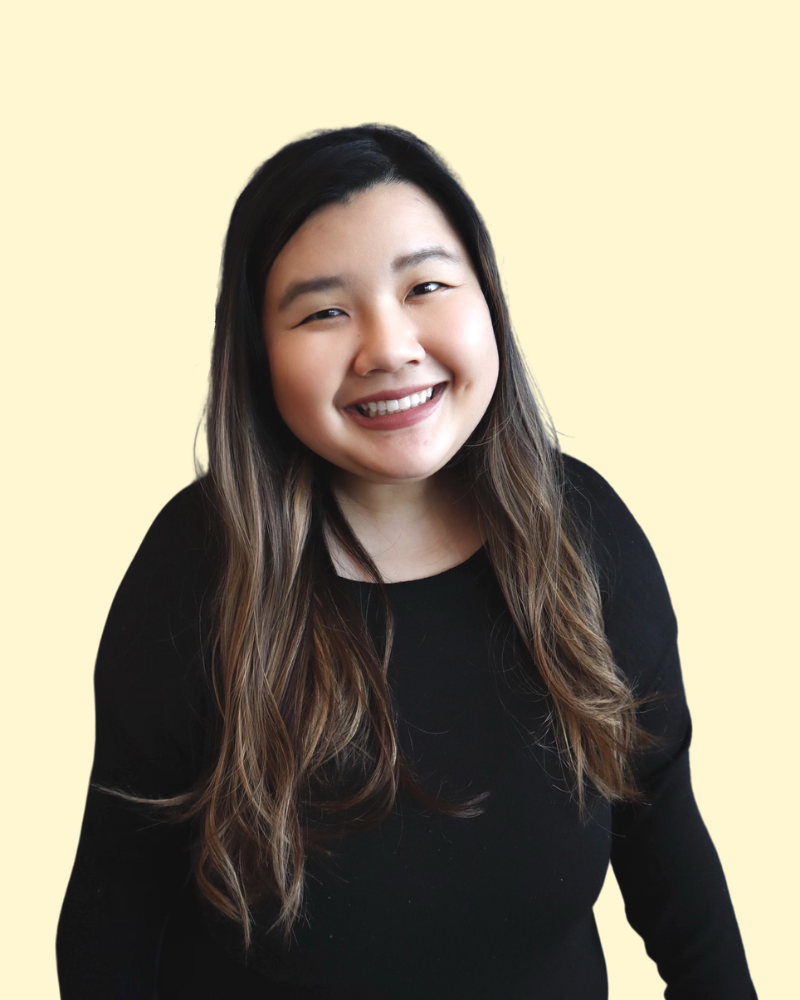 Wendy Huynh
Eduglow
Coursework Aide Mobile App & Website
WHAT IS EDUGLOW?
Eduglow was created to be students' and educators' useful coursework aid in learning and teaching educational topics. Eduglow provides a unique experience for Gen Z to leverage how their generation learns best: online with short videos, utilizing technology, and peer interaction.
BACKGROUND
Students ages 18 to 24 are part of Generation Z (Gen Z). Gen Z is the first generation to grow up with the internet and social media starting from a young age – they are used to turning to the web to search for answers. As a result of virtual learning due to COVID, online learning has become a huge way that students learn. In order to keep students engaged, innovative and adaptive methods of learning will need to keep up with the trend.
MY ROLE
Eduglow was created for my solo Capstone Project for Springboard's UX/UI Intensive Program. This project spanned over 1 month. I was responsible for the whole process of product design.
User Research

User Interviews

Wireframing

User Flows

Visual Design

Prototyping

Usability Testing

Iterative Design

Final Design
To start the design process, I created a project plan with an outline of key tasks and deadlines, divided by phases. This outline was a great reference to ensure that I was on-track with my deliverables.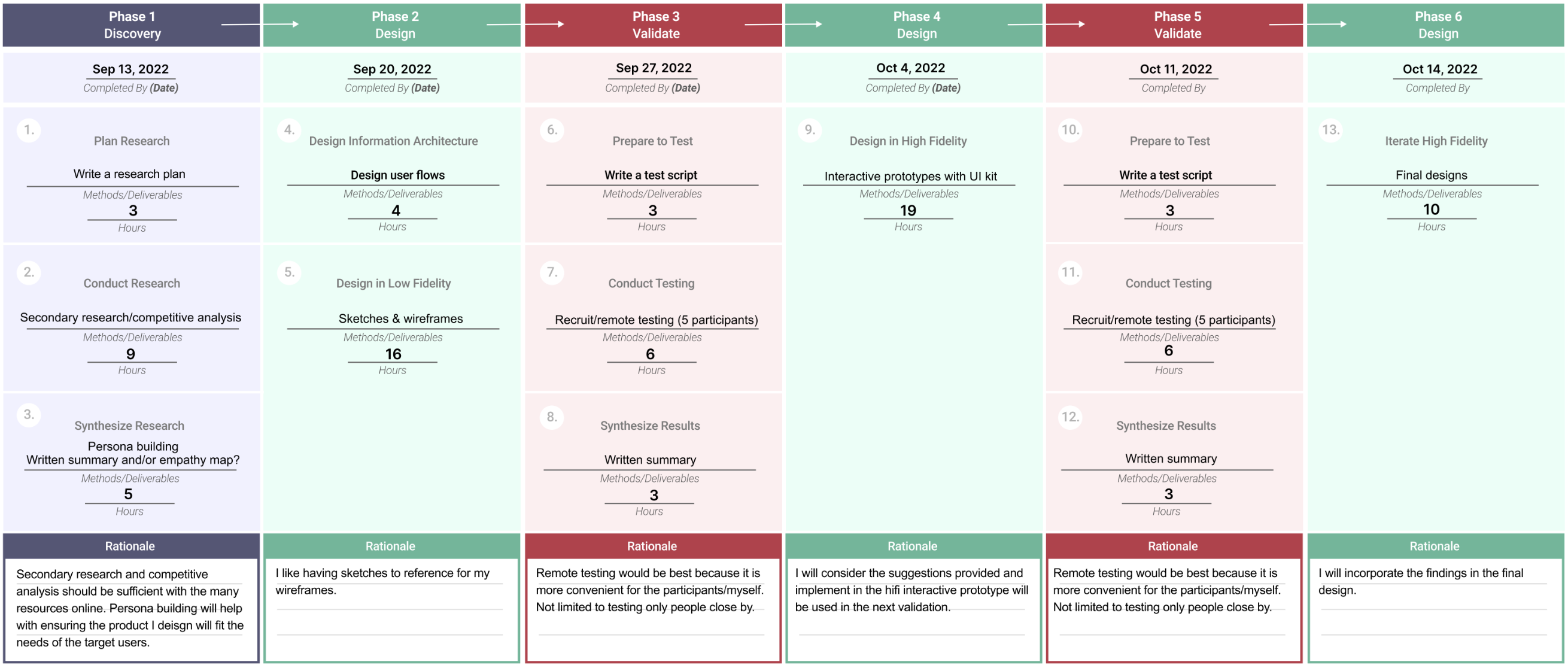 RESEARCH PLAN
Before starting the secondary research, I created a research plan. The research plan helped me to target what information I wanted to focus on in my research that would help me successfully design. The research plan also broke down the secondary research and synthesis into smaller deadlines.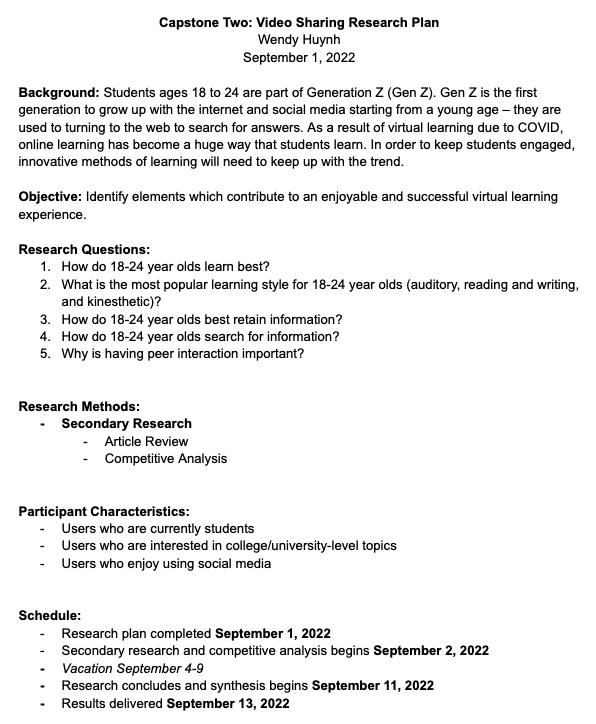 WHAT IS KNOWN
A startup company launched a media product two years ago. The company's business strategy was to first build a user base by offering a free product and then evolve the feature set so they could monetize on a premium (paid) product.

At this point, the product has been well received and has a healthy user base of free
users. My job is to design an experience that will allow users to subscribe and pay
a monthly fee.

SECONDARY RESEARCH
I wanted to dive deeper into a few topics that I think are important to the product:
the 18-24 year-old age group, particularly how they learn best.

how industry leaders tackle the free to premium user flow.

what design features are associated with the brand attributes.
About the Target Users
I decided to do secondary research using article reviews as there are many credible studies regarding Gen Z and their learning methods. This would be the most efficient way to do research given the limited time to complete the design process.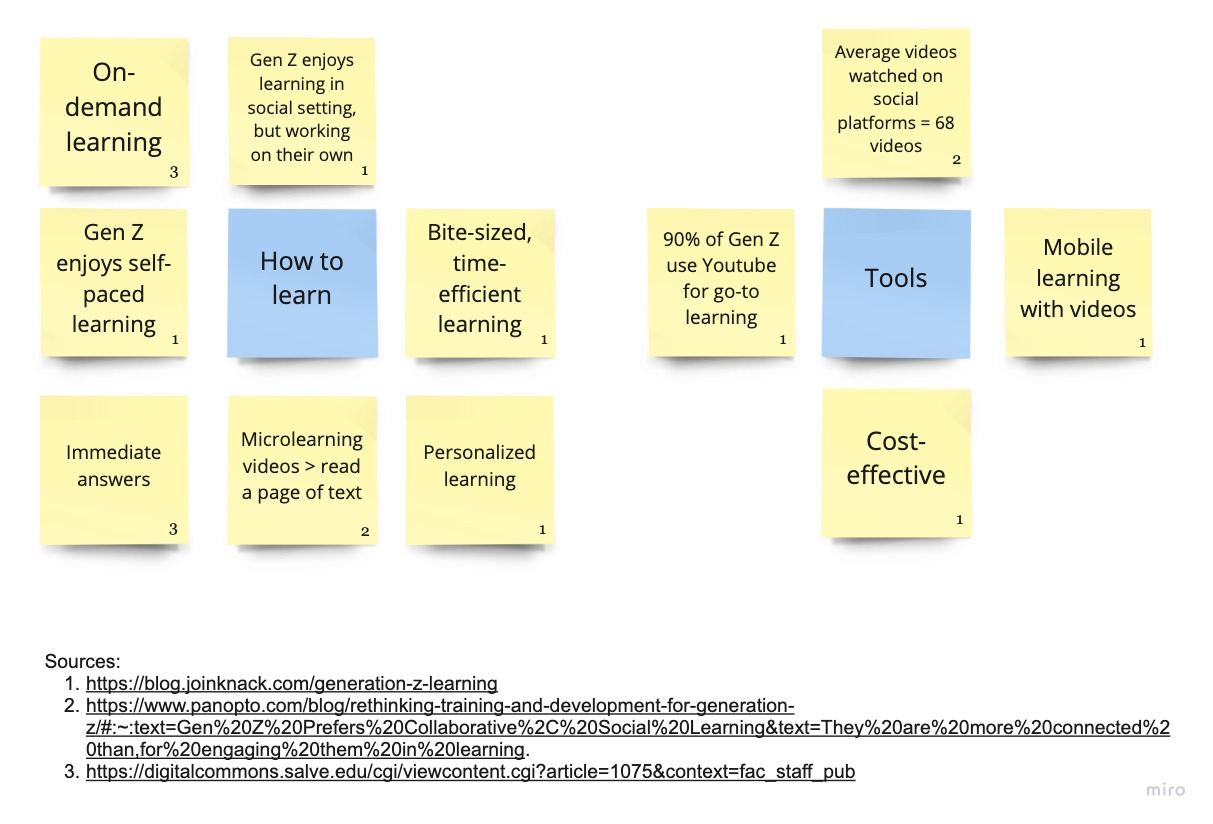 About Industry Leaders
To learn how to incorporate the freemium model into Eduglow, I looked at 3 popular media platforms to study how they implemented the freemium model.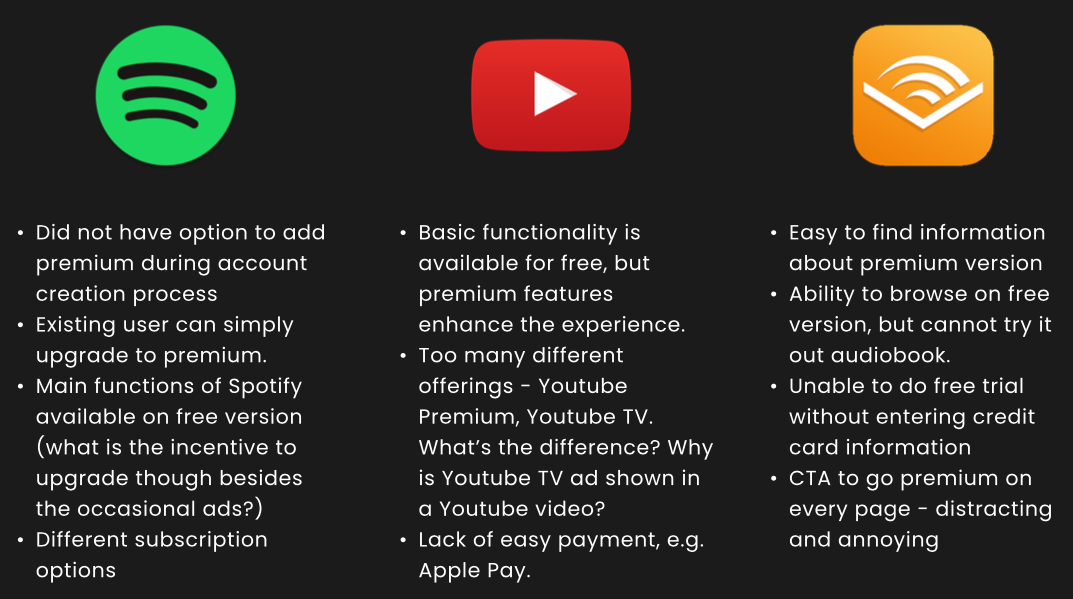 Brand Attributes and Design
The brand attributes of bold, smart, and hip remind me of a dark themed, neon, and simple design. This type of design is also popular at the moment, very fitting for the trend-loving Gen Z users. Below are screenshots of designs I drew inspiration from.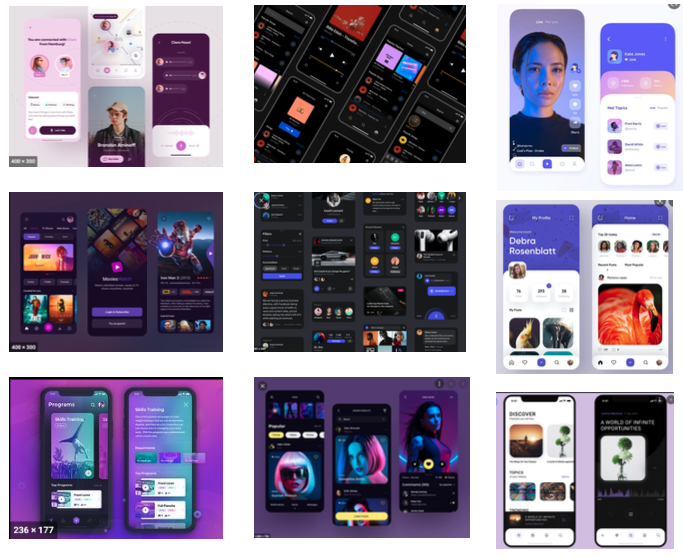 EMPATHY MAPPING
My goal of creating an empathy mapping is to put myself in the users' shoes. This allowed me to better understand from the user's point of view.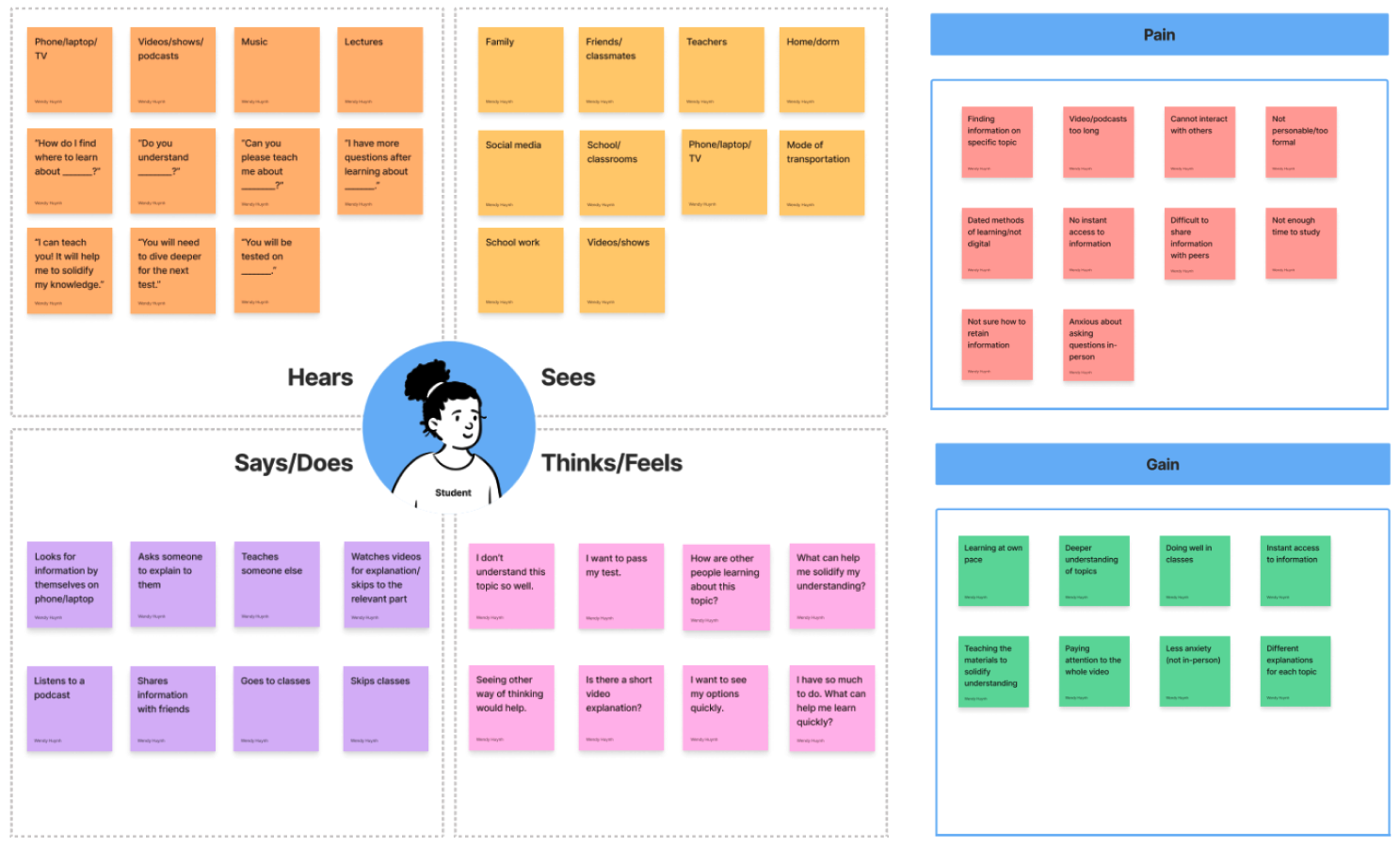 PERSONAS
I created 2 personas based off of my research to help me better understand how the product will be used and where the gaps are with current products.
These 2 personas represent different user types and help to keep every single design decision aligned with the user in mind.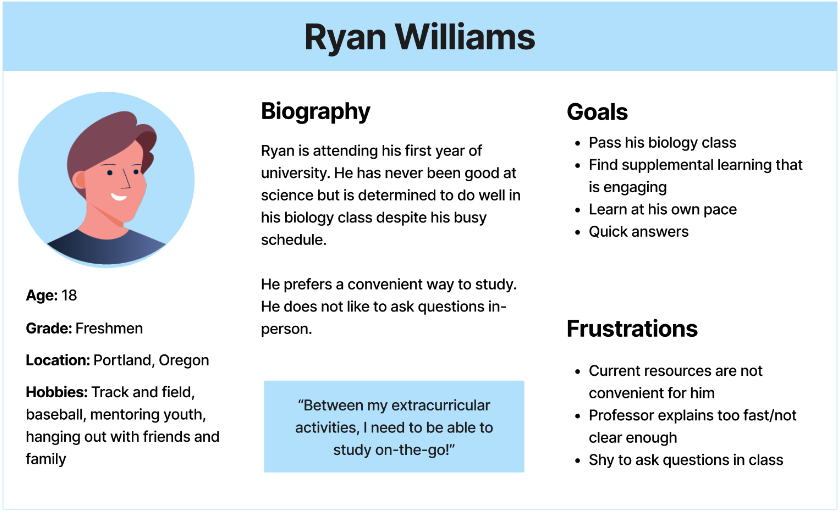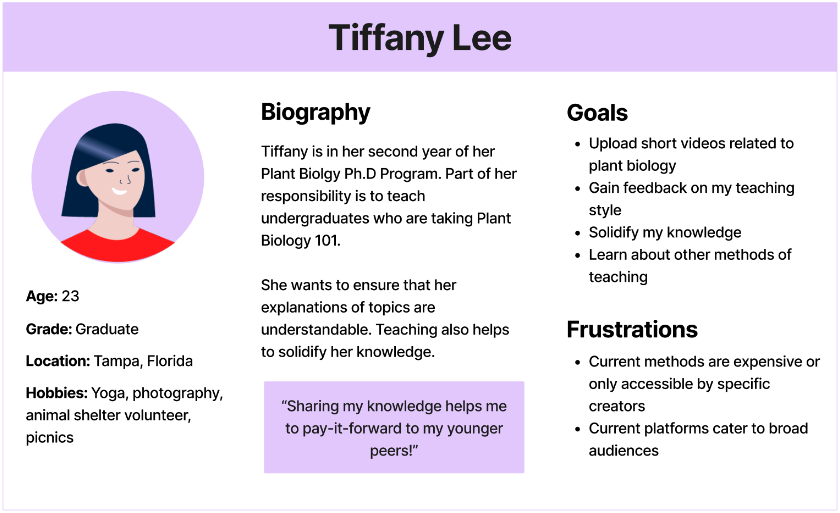 COMPETITOR ANALYSIS
I decided to do the competitor analysis after completing the research and synthesis because I would have a list of criteria (based off of what users need) in which to compare.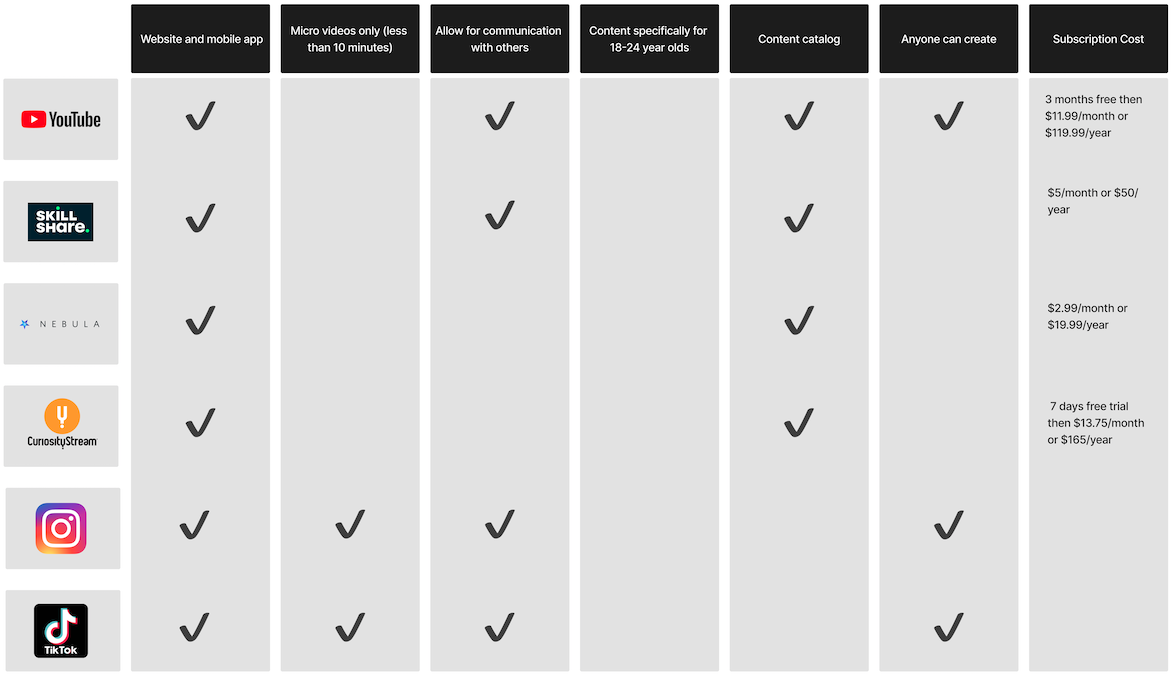 MAIN USER FLOWS
These user flows were determined from the needs of the personas. There are 3 main user flows: sign up, create video, search video.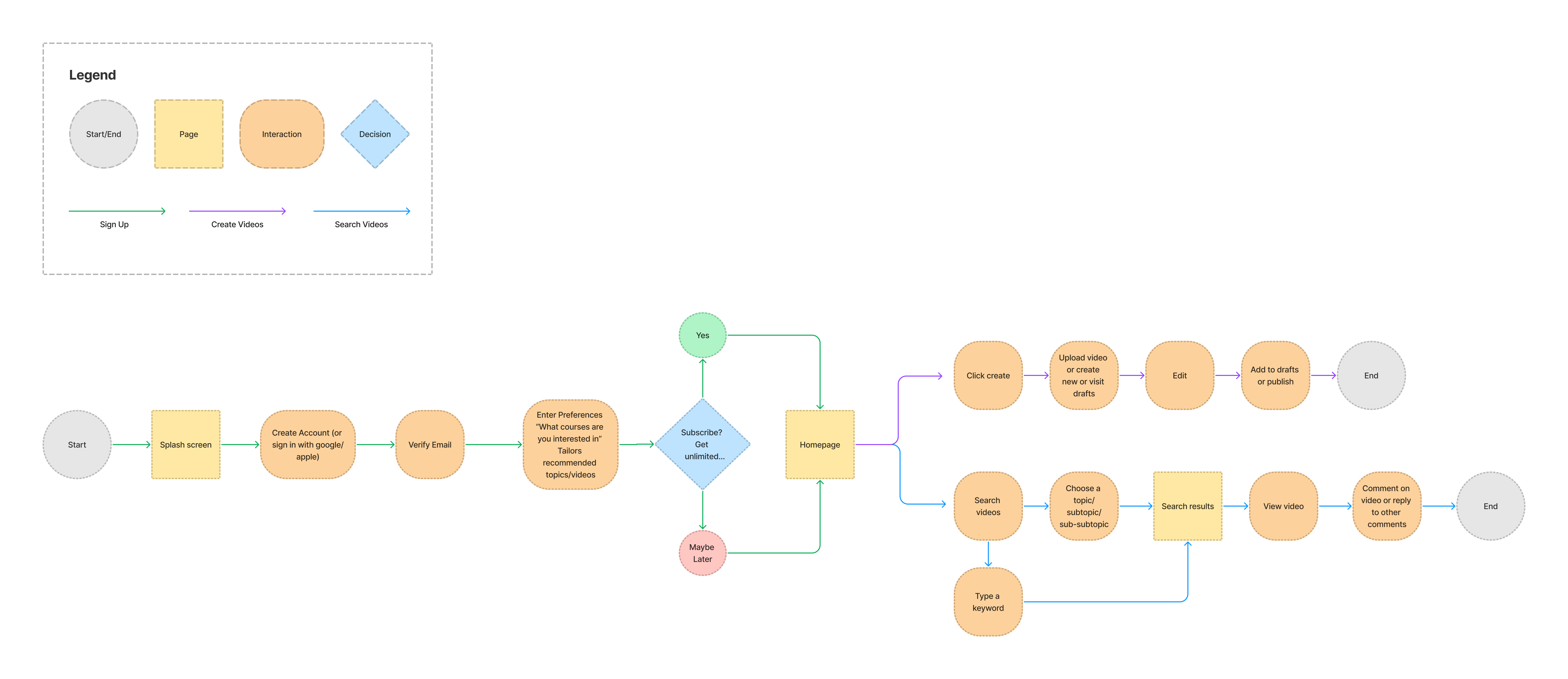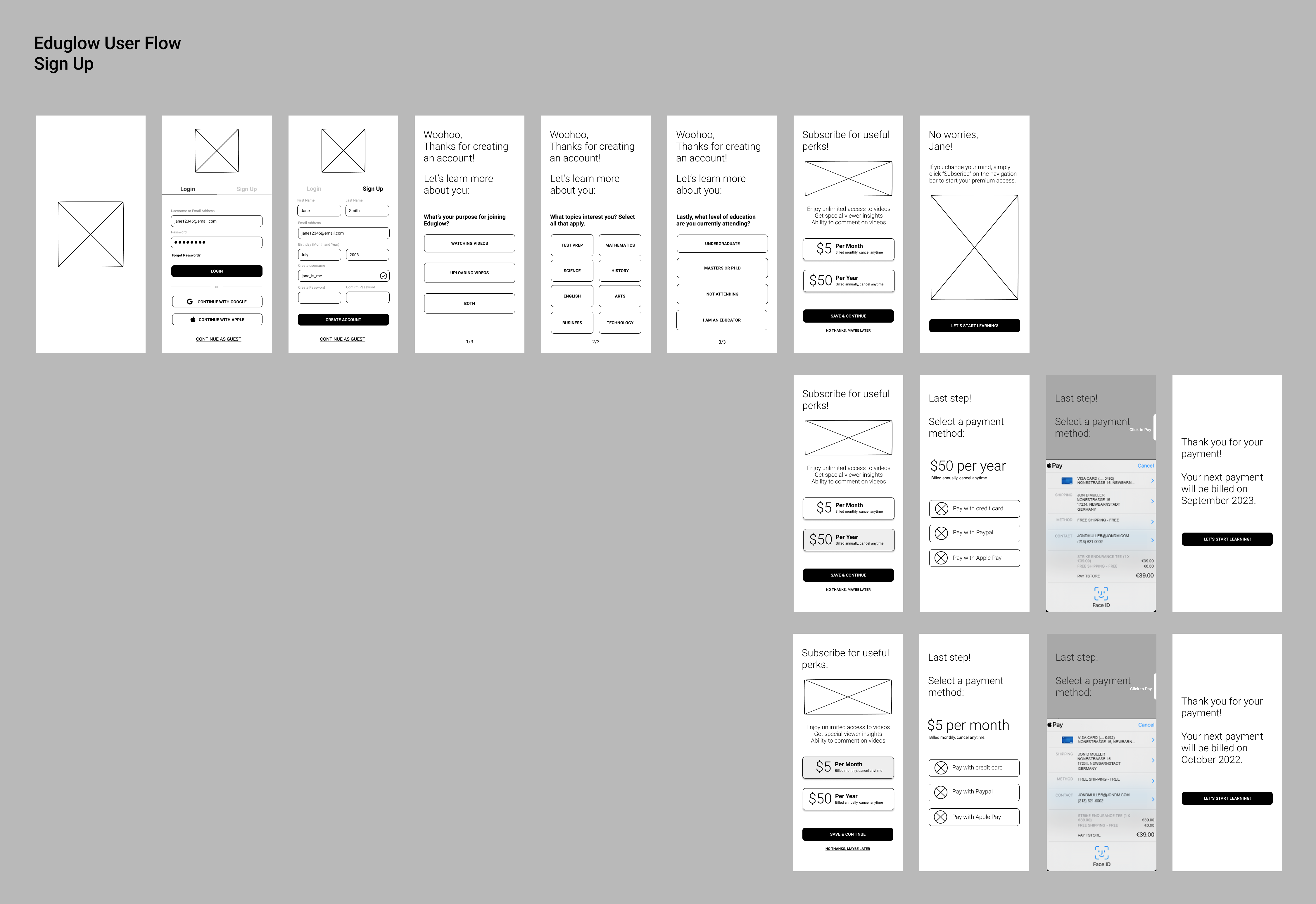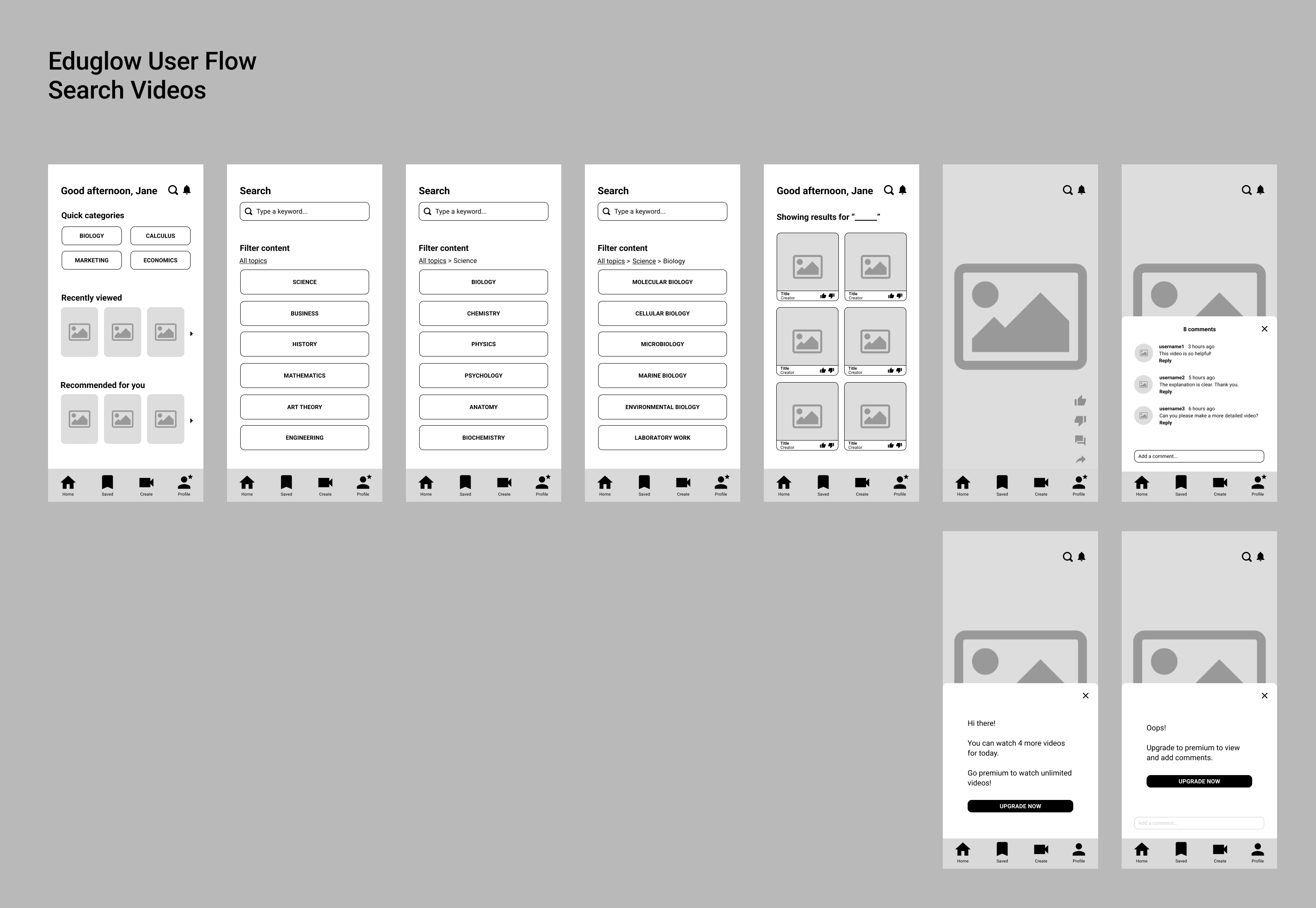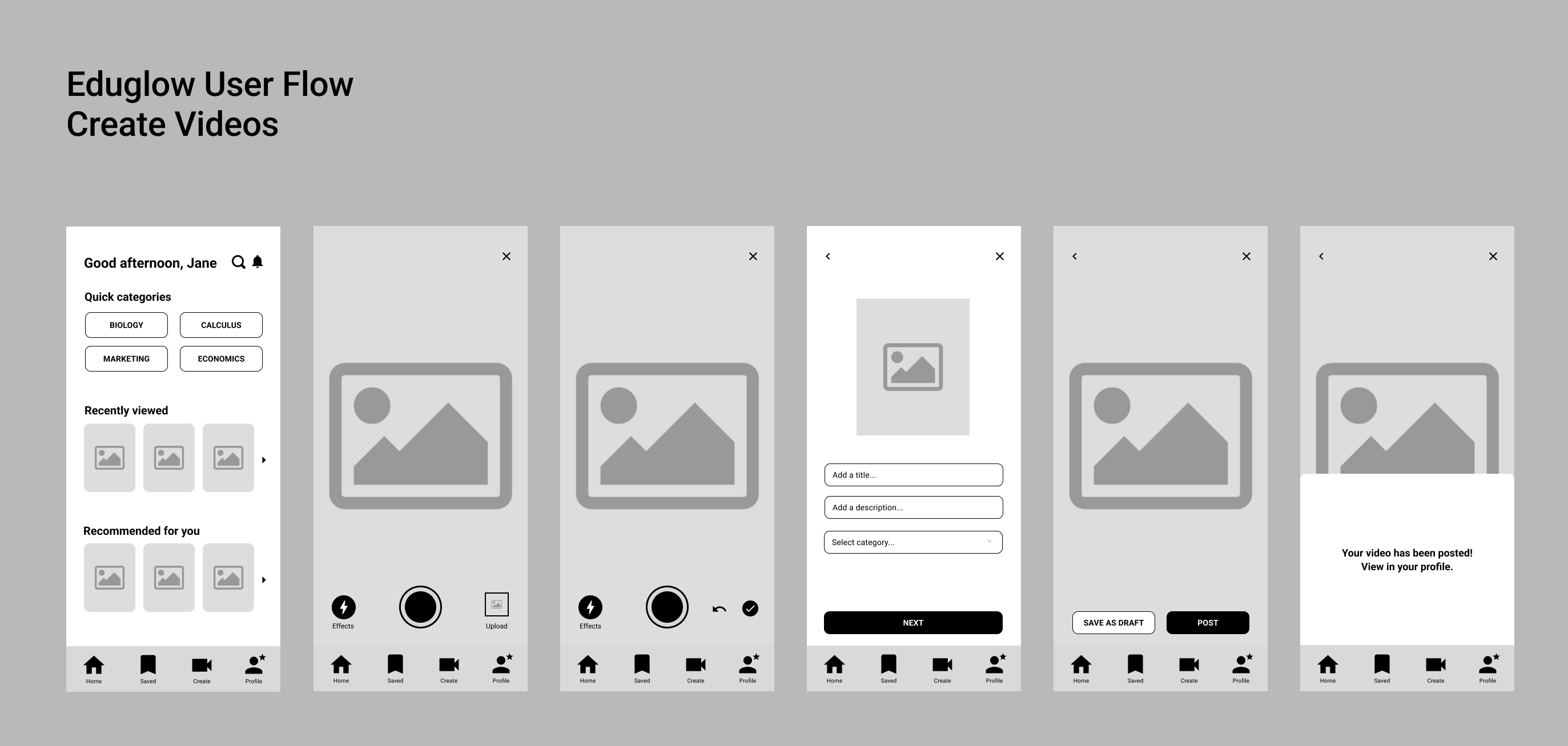 About the Participants
I recruited 5 participants. Since I am designing an application for 18-24 year olds, I recruited 4 participants in this age range, and 1 more participant who is 26, since college students can also be older.

About the Usability Tests
The usability tests were 20 to 30-minute video calls conducted over Zoom using the low fidelity prototype. The goals of the call were:

Get to know the participants

Have participants explore the prototype

Complete tasks regarding the main user flows

Collect verbal and visual feedback
Findings and Recommendations
There were two issues that were found. Both issues were corrected in the Final Design.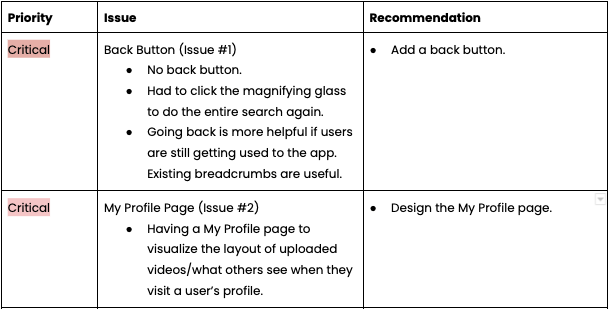 SIGN UP WITH OPTIONS
My goals for the sign up process was to (1) gain insight as to why people are using Eduglow and (2) allow users to conveniently subscribe in the process.

The insight would be useful data to improve the application and to view user expectations. As simple it is for users to subscribe, they can also easily skip the subscription and use the free product.
EASILY SEARCH FOR VIDEOS
Users can navigate through the quick categories, search filters, or search by keywords.
INTERACT WITH OTHER USERS
Gen Z learns best through their peers. Premium users can ask questions, leave comments, and reply to comments. This is especially useful for the more shy students who prefer to ask questions anonymously.
CREATE SHORT, INFORMATIVE VIDEOS
Premium users can upload or film videos that are up to 5 minutes long. This ensures that videos are straight-to-the-point.
HELPFUL LANDING PAGE
Potential users can get to know more about Eduglow from the landing page. There are also links to the app store to download Eduglow for iOS and Android.

FINAL ITERATION TESTING
The final iteration was tested with 3 participants. 2 of the participants mentioned that it would be nice for the search pages to have a close button instead of clicking back multiple times. This feature was added to the final design.
This goes to show that design is an iterative process. As more features are added, it will be important to continuing testing the application to ensure usability and that new features are helpful.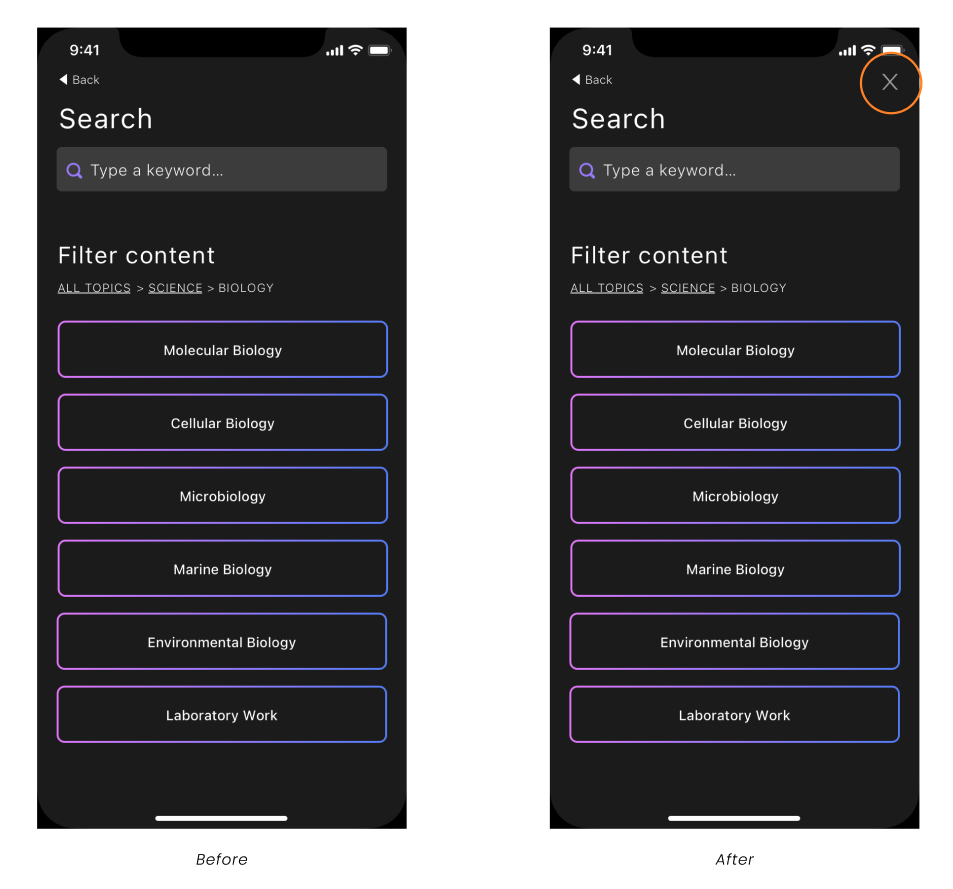 CHANGES HAPPEN, AND THAT'S OKAY
I had created an initial color palette prior to designing, that was purely based off of the brand personality and brand attributes. However, after designing the lo-fi wireframes, I decided to make some changes to the original palette.

I learned that it is important to remain adaptive and open-minded. This also reiterated the importance of designing lo-fi wireframes in grayscale to nail down the functionality first without color.